This Is The Difference Between Liam And Noel Gallagher Fans...
27 June 2018, 16:38 | Updated: 29 June 2018, 11:07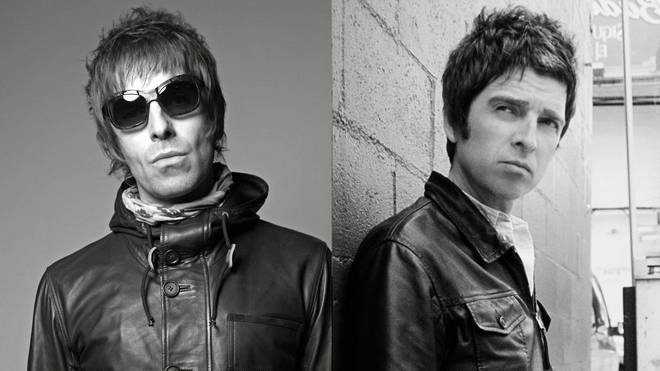 YouGov Profiles links fans of the former Oasis rockers to certain characteristics, and the results are very interesting.
There's no denying that Noel Gallagher and his younger brother Liam are two very different people, and now there's data to prove that their fans are too.
YouGov Profiles allows you search for any brand, person or thing and connect them to their customers and fan base via YouGov polls, which regularly survey a panel of 400,000 people over 18.
Amazingly, they've managed to use all this info to provide brands and people with demographics, and give us a decent idea of what fans of the Gallagher brothers might be into when it comes to music, film and even politics.
Oh - and you can even get an idea of what they might look like! Take a look at some of their findings below...
Liam Gallagher fans:
According to the website, Liam Gallagher fans are generally male, most likely to be from the North West, mainly work in the sports industry, and are generally aged 18-24 with between £125 and £499 spare cash to spend each month.
Their favourite films include Scarface, JAWS and Scrooged, and fave TV shows are Corrie, The Great British Bake Off and Inbetweeners.
In terms of other bands, they like and Oasis (obviously), The Verve and Happy Mondays, and their favourite people include Ricky Tomlinson, Kim Kardashian and Roseanne Barr.
When it comes to politics, they also lean slightly right of the middle, which might explain the Roseanne Barr thing...
See a representation of a Liam Gallagher fan below: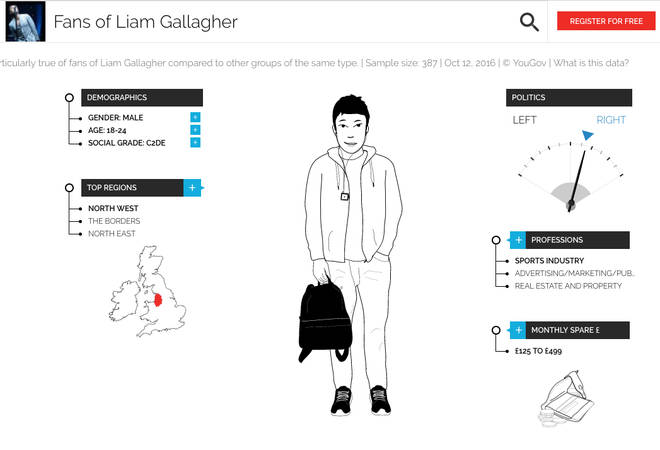 Noel Gallagher fans:
Surprisingly, Noel Gallagher fans are deemed to be a LOT older, being categorised as males between 40 and 45.
They lean slightly to the left when it comes to politics, have between £500 and £999 spare to spend each month and mainly work in construction, fashion and the sports industry.
Their favourite movies include A Clockwork Orange and 24 Hour Party People, and their favourite TV programmes include The Office, The Royle Family or Football Focus.
Musically, they're also linked to the likes of The Stone Roses, The Verve and… Damon Albarn and their favourite celebrities are Donald Trump, Ricky Gervais and Stan Laurel!
And apparently they look a bit like this: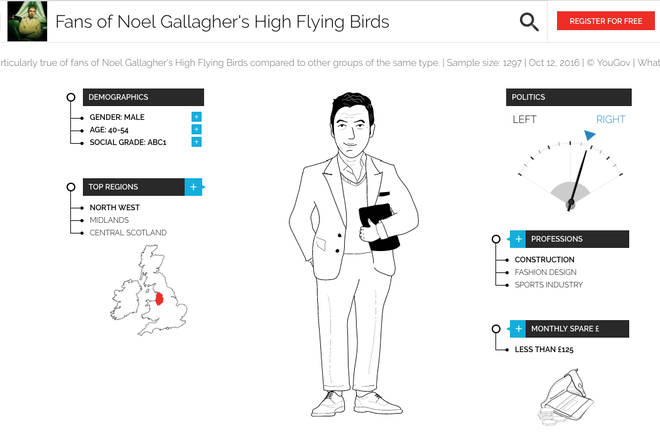 The website also found its Arctic Monkeys fans to be lovers of Nevermind The Buzzcocks, Come Dine With Me, Louis Theroux and Sir Ian McKellen.
It's not just limited to musicians though.
The search function also allows you to look up presenters and TV personalities as well as famous brands.
Unfortunately, you can't look yourself up yet, unless of course you're famous.