Kurt Cobain Exhibit 'Destroyed' By Fire In Hometown
13 June 2018, 10:06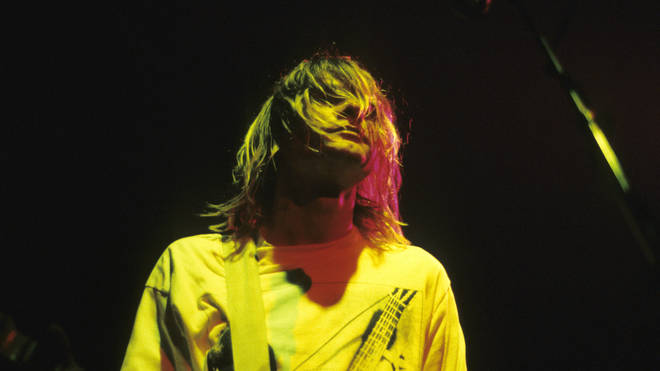 A local Washington museum, which housed an exhibit on the late Nirvana frontman, was blighted by fire last Saturday.
A Kurt Cobain exhibit has reportedly been destroyed in a fire in his hometown.
As reported by The Seattle Times, the blaze broke out at the Aberdeen Armory in the US state of Washington on Saturday (9 June), where the city's museum was situated.
The building, which dates back to 1922 - includes exhibits on the city's history, as well as some artwork from the Nirvana frontman and Washington native.
Watch a video of the fire below:
Former Nirvana bassist Krist Novoselić commented on the video, writing: "This is terrible. Hope people are safe."
A writer and previous visitor of the centre shared the same sentiments, while sharing images he took of the Kurt exhibit last September.
Sad to hear about the fire at the Aberdeen Museum of History. Here are a couple pics of the Kurt Cobain Exhibit and one of the old Stewart Field (Aberdeen HS stadium) sign I took when I was down there last September. Horrible loss for the community. pic.twitter.com/rsRliBPbmA

— Ryland Spencer™ (@RylandSpencer) June 11, 2018
"This is a devastating loss for the city," said Aberdeen Fire Chief Tom Hubbard, who added that there was a "massive destruction of a lot of historic items" from fire, smoke and water damage.
While no information has been released about which items were lost in the fire, it has been confirmed that no one was harmed in the blaze.
Watch the trailer for Kurt Cobain biopic, Montage Of Heck:
The exhibit isn't the only part of Cobain's history to have suffered lately, after his daughter Frances Bean had given up his MTV Unplugged guitar as part of her divorce settlement.
It was previously reported the guitar was at the centre of the divorce battle between Frances and her ex Isaiah Silva, who claimed that she gave it to him as a gift.
According to TMZ - who claimed to have read the judgement documents - Frances has since allowed Silva to keep the 1959 Martin D-18E on the condition that Silva's new girlfriend vacates the couple's LA house, which now belongs to Cobain under the property settlement.
See Kurt's famous guitar here:
Watch Frances Bean debut her very first song:
Meanwhile, Dave Grohl recently revealed he still doesn't listen to Nirvana.
Speaking to GQ about the time following the death of the Nirvana singer in April 1994, he said: "For years I couldn't even listen to any music, let alone a Nirvana song.
"When Kurt died, every time the radio came on, it broke my heart. I don't put Nirvana records on, no. Although they are always on somewhere. I get in the car, they're on. I go into a shop, they're on. For me, it's so personal."