Carl Barat Not Surprised By Pete Doherty Breakfast Challenge
25 August 2018, 15:50 | Updated: 28 August 2018, 14:24
Pete's Libertines bandmate has revealed that the recent big breakfast triumph was nothing unusual for the musician…
Pete Doherty's Libertines bandmates have told Radio X that they're not surpised the singer triumphed in a big breakfast-eating challenge this week - in fact they've seen him eat more than that.
Drummer Gary Powell told Radio X's Gordon Smart backstage at Victorious Festival: "The pig man is back is back in town!"
Doherty's songwriting partner Carl Barat revealed: "That nick name isn't lightly earned! He could always eat that amount, so it's no surprise to me. We've seen him eat more than that, haven't we?"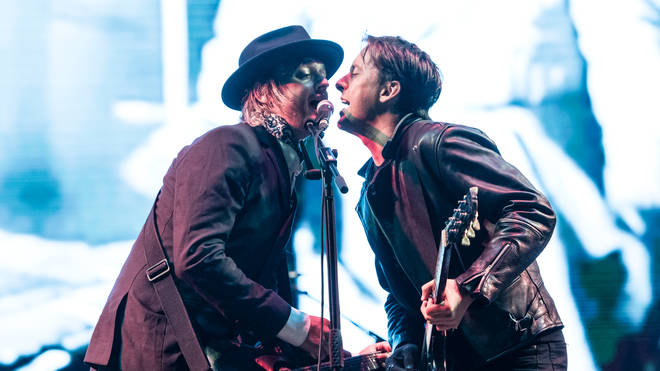 Earlier this week Kent Live reported that, The Libertines frontman completed a mammoth English Breakfast eating challenge at the Dalby Cafe in Cliftonville, Margate which saw him demolish a huge fried breakfast in under 20 minutes.

The platter included "eggs, 4 bacon, 4 sausage quarter pounder burger, chips, hash browns, onion rings, bubble, beans or tomatoes, mushrooms, 2 slices of thick bread and a tea or coffee". Wow.

Gary joked: "It's his protein breakfast, he gets up at five in the morning, he goes for a run, he goes to the gym… he's got to energise himself up with some protein and some potassium and stuff… then he goes back to the gym in the afternoon… That's what he does!"
The Libertines have announced they will end touring to concentrate on their new album, playing their final gig at Margate's Wheels and Fins Festival.
They played Portsmouth's Victorious Festival, headlining the Common Stage on Friday 24 August.
Radio X is down at Victorious Festival this weekend, with Gordon Smart broadcasting live from the Strongbow Yard between 1pm and 4pm on Saturday and Sunday.