Green Day to release Nimrod 25th anniversary box set
14 October 2022, 14:15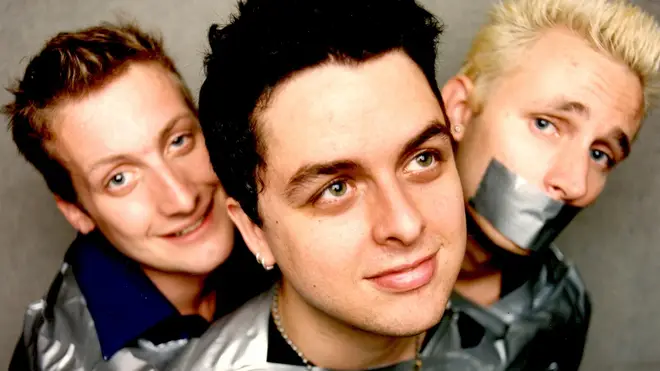 The band's 1997 spawned the hit Good Riddance (Time Of Your Life) and is getting the deluxe treatment.
Green Day have announced details of a 25th anniversary edition of their album Nimrod.
Their fifth full-length outing, the album was released in 1997 and featured the singles Good Riddance (Time Of Your Life), Hitchin' A Ride, Redundant and Nice Guys Finish Last.
The new box set, titled Nimrod 25 - 25th Anniversary Edition, will be released on 27th January 2023 and is set to include the original album, a disc of previously unreleased demos, and a live show from Philadelphia's Electric Factory recorded on 14th November 1997, one month after Nimrod's release.
The 14-track demos disc includes two unreleased Green Day songs - You Irritate Me and Tre Polka - plus a cover of the classic Elvis Costello song Alison.
Listen to You Irritate Me here:
Green Day - You Irritate Me [DEMO] (Official Audio)
Two editions of the set will be issued: a numbered 5-LP vinyl box which is being pressed as a regular black vinyl version, plus a limited edition pressed on silver vinyl, available in indie stores and via the website. The vinyl box comes with a 20 page, 12" x 12" book, poster, cloth patch, exclusive slip-mat and commemorative back-stage pass.
There's also a 3 CD box set, which includes booklet, cloth patch and commemorative back-stage pass.
The band is also bringing back a much sought after fan favourite vintage t-shirt along with other Nimrod-era merch available for a limited time in the band's official store.
Pre-order the Green Day Nimrod 25 - 25th Anniversary Edition via the band's official webstore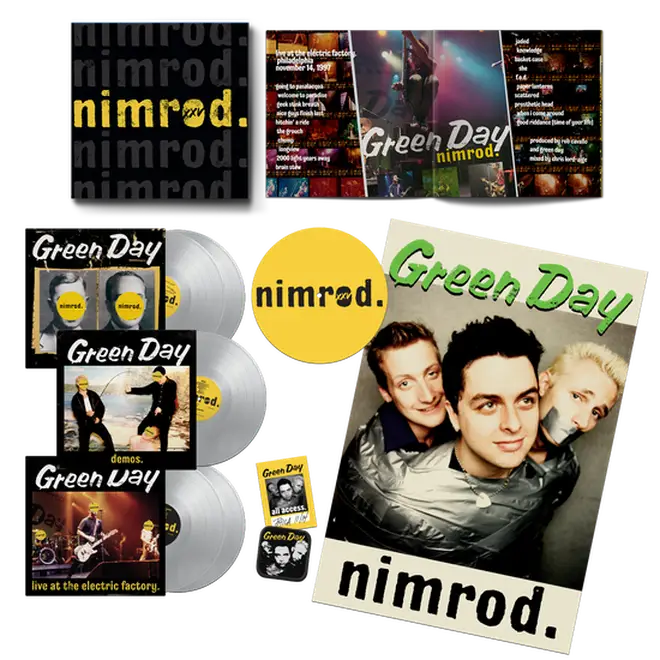 Green Day Nimrod 25 - 25th Anniversary Edition box set track listing:
Nimrod
Nice Guys Finish Last
Hitchin' A Ride
The Grouch
Redundant
Scattered
All The Time
Worry Rock
Platypus (I Hate You)
Uptight
Last Ride In
Jinx
Haushinka
Walking Alone
Reject
Take Back
King For A Day
Good Riddance (Time of Your Life)
Prosthetic Head
Nimrod Demos
Nice Guys Finish Last
Place Inside My Head
The Grouch
Walking Alone
Jinx
Alison
Espionage
You Irritate Me
Tre Polka
When It's Time
Desensitized
Chain Saw
Reject
Black Eyeliner
Live at the Electric Factory, Philadelphia November 14 1997
Going To Pasalacqua
Welcome To Paradise
Geek Stink Breath
Nice Guys Finish Last
Hitchin' A Ride
The Grouch
Chump
Longview
2000 Light Years Away
Brainstew
Jaded
Knowledge
Basket Case
She
Fuck Off And Die
Paper Lanterns
Scattered
Prosthetic Head
When I Come Around
Good Riddance (Time Of Your Life)