Green Day On Trump Victory: "They Elected A Fascist Into The White House"
10 November 2016, 22:48 | Updated: 12 November 2016, 22:50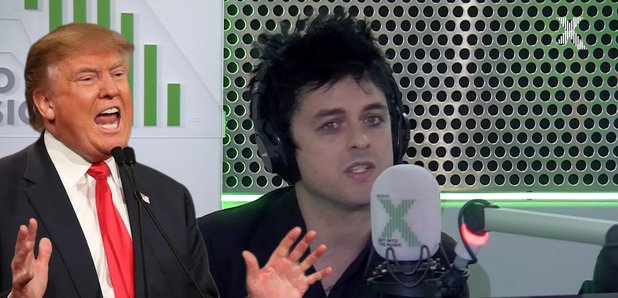 The Revolution Radio rockers have spoken out against the newly elected US President on the Chris Moyles Show.
Green Day have shared their reaction to Donald Trump 's election as the new President of the United States.
The punk rock trio told Radio X's Chris Moyles that their country had "elected a fascist into the White House for the first time in American history".
You can watch the clip here:
After revealing that it was easier waking up to the news in Europe, frontman Billie Joe Armstrong described how he found out about the result.
The Revolution Radio singer revealed: "I went to bed and everyone kinda thought the correct side was going to win.
"Then at 6am I wake up choking - like this is kinda gross, like when you inhale spit [...] I'm thinking 'oh my god why am I coughing?'
"And of course the first thing I do is think 'I'll check and see what happened'. So I go to my phone and I look and I have 50 messages. And I was like ' this is not good'. 'Cause usually I get four every day."
He added: "All my friends and family are freaked out because they just elected a fascist into the White House for the first time in American history."
Watch the full interview below:
Last night, the American Idiot singer took to Instagram to echo the same sentiment, posting the lyrics to his 21st Century Breakdown track with an image of the Statue of Liberty with her head in her hands.
The trio have shared their distaste for the politician on several occasions, and most recently declared their American Idiot anthem to him.