Blur deliver a triumphant and transcendent set at Wembley Stadium
9 July 2023, 14:47 | Updated: 11 July 2023, 17:25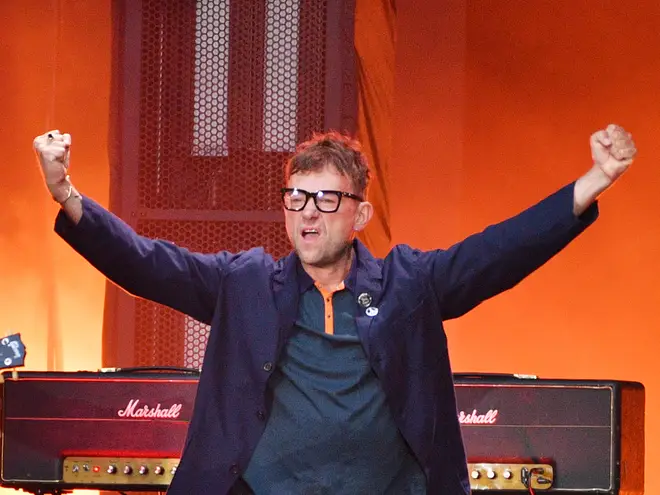 The Britpop legends played the first of two epic nights at Wembley Stadium on Saturday. Get the setlist here.
Blur delivered an energetic and crowd-pleasing set at Wembley Stadium last night (8th July), no doubt prompting full hearts and sore heads this morning.
The Britpop icons - comprised of Damon Albarn, Graham Coxon, Alex James and Dave Rowntree - took to the stage for the first of two epic gigs at the iconic football ground this weekend, treating fans to 25 tracks spanning over three decades.
READ MORE: Blur at Wembley Stadium: stage times, support acts & more
After kicking things off with St. Charles Square, the latest track from forthcoming album The Ballad Of Darren, the band rattled through early favourites, including baggy tribute There's No Other Way, Popscene and Tracy Jacks- much to the delight of the beer-soaked crowds.
Despite the threat of injury, which plagued drummer Dave Rowntree earlier on in the week and caused the band to cancel a French festival date, Blur were the definition of fighting fit, never seeming to miss a beat as Damon Albarn offered up much of the energy witnessed at his Gorillaz gigs and quite literally getting stuck in when it came to the crowd.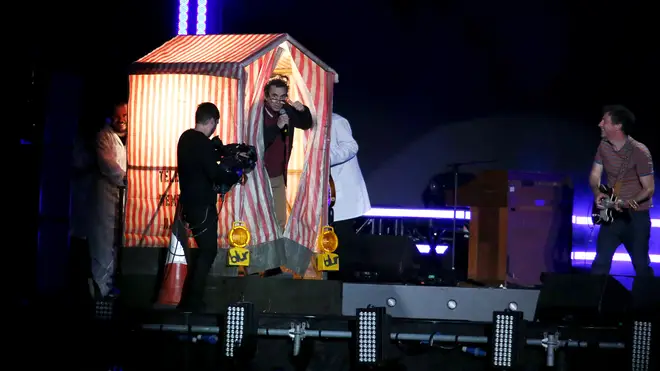 Phil Daniels made an expected but no less delightful appearance for Parklife and the band pulled out all the stops and props, aided by stage hands and music techs in lab coats, who whizzed around the stage.
You'd be forgiven for thinking that their 55-year-old frontman wouldn't bring the same cheeky chappie energy to some of Blur's more upbeat tracks. However, Damon utilised his boyish charm to its fullest on stage, donning a houndstooth deerstalker hat for the britpop battle-winning Country House and a custom made Fila jacket for his comment on 18-30 holidays, Girls & Boys.
Song 2 of course delivered exactly what it was supposed to; two minutes and two seconds of absolute Bacchic frenzy among the the crowds.
And yet for every laddish yelp and shout there were more melancholic and tender moments, with the likes of Beetlebum, Out Of Time and This Is A Low providing that hair standing up on the back of your neck effect people like to bang on about.
READ MORE: Damon Albarn on how yoga replaced heroin in relieving his anxiety
The Coxon-sung Coffee and TV and Tender provided some of the best singalongs of the night, with the London Community Gospel Choir joining the band for the latter on stage. By the time their final track, The Universal, was in full swing - Blur had the audience absolutely wrapped around their fingers, with Damon at his most potent. Half poet, half preacher.
Blur's Wembley reunion dates delivered absolutely every single thing it should have and more.; not just nostalgia, all-out anthems and spine-tingling ballads, but also a lot of heart.
Blur's setlist at Wembley Stadium on Sat 8th July:
1. St. Charles Square
2. There's No Other Way
3. Popscene
4. Tracy Jacks
5. Beetlebum
6. Trimm Trabb
7. Villa Rosie
8. Stereotypes
9. Out of Time
10. Coffee & TV
11. Under the Westway (First time live since 2014)
12. End of a Century
13. Country House
14. Parklife (with Phil Daniels)
15. To the End
16. Oily Water
17. Advert
18. Song 2
19. This Is a Low
Encore:
20. Lot 105(First time live since 1994)
21. Girls & Boys
22. For Tomorrow
23. Tender (with London Community Gospel Choir)
24. The Narcissist
25. The Universal