VIDEO: See This Water Activated Image Of The Beatles' Abbey Road Cover
23 June 2018, 12:00
Watch this artist re-create The Fab Four's iconic album artwork.
An artist has brought to life The Beatles' iconic Abbey Road cover through a water-activated painting. 
Dino Tomic can be seen throwing water over a seemingly blank surface to reveal an amazing painting of the Fab Four in this clip. 
He is creating an innovative form of water activated art that has an interesting science behind it. 
Tomic basically created the image by using a hydrophobic coating to paint the portraits of George, Paul, Ringo and John. 
After he completed his work, he then poured several buckets of water onto the concrete to reveal his painting.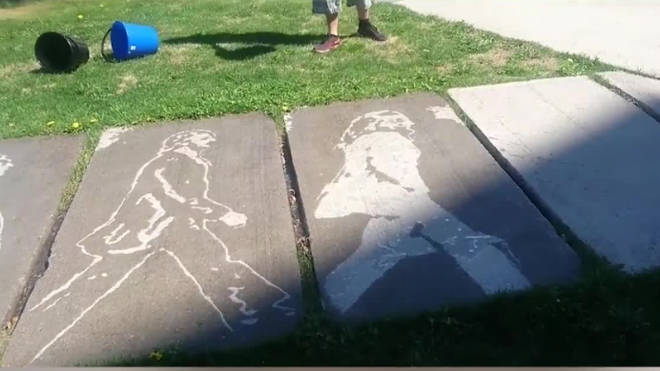 Tomic wrote on his Instagram: "Throwing water at dry concrete to show whats hidden in the sun. Only when the water hits the surface you can see that there is something magical happening".
To create the image, the artist used products from a company called Rainworks who specialise in water-activated art. 
On their website, they explain how Rainworks' owner Peregrine Church created the concept and the science behind it: 
"Since super-hydrophobic coatings repel water and keep surfaces dry, and since concrete changes color in the rain, Peregrine thought he might be able to use the super-hydrophobic coating to create hidden messages that only appear on rainy days."
This intriguing clip shows ideas, science and art coming together to create one extremely cool painting that we certainly wouldn't mind stumbling across on the sidewalk. 
Meanwhile, Paul McCartney's Carpool Karaoke aired this week.
It was previously announced that The Beatles legend was set to take part in the hit segment for The Late Late Show with James Corden, and now fans can watch all 23 minutes of the final cut online.
The video sees the iconic Liverpudlian return to his hometown for a rendition of his greatest hits, including Drive My Car and Penny Lane-which sees him return to the famous landmark and even pop in on some unsuspecting members of the public.
Watch a clip of the moment here:
The video also saw the legend revisit his childhood home on 20 Fortlin Road, where he told the amazing story of how he and John Lennon wrote She Loves You and played it for his father.
McCartney revealed: "... And he listened to the whole song, and he said: 'It's very nice. But son, there's so many of these Americanisms around. Couldn't you sing She loves you, yes, yes, yes?'"
After being mobbed outside his old gaff, the pair went on to sing snippets of more music, before heading to a pub for a surprise gig.
No big deal.
Watch the full segment below: