Who are the oldest bands still touring today?
6 July 2023, 21:11 | Updated: 11 July 2023, 16:27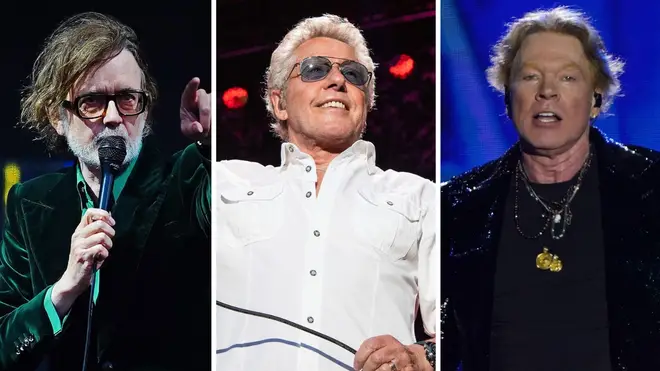 Which of the longest-serving rock 'n' roll acts have dates on the calendar for this year? And who can we reasonably expect to see in 2024?
In rock 'n' roll there's no retirement age... in fact there are a great many bands that are continuing to play some 40 or 50 years after their first hit.
But who is the oldest? In reverse order, then. here are some of the most experienced bands you'll be able to see performing soon...
Pixies: established 1986

Black Francis of the Pixies performing in Madrid, March 2023. Picture: Atilano Garcia/SOPA IMages/Alamy

After a hiatus between 1991 and 2004, the Boston alternative rock legends are now a touring force to be reckoned with and will be touring their third and fourth albums (Bossanova and Trompe Le Monde) in the UK and Europe in March 2024.

Guns N'Roses: established 1985

Axl Rose and Slash of Guns N' Roses performing on the Pyramid Stage at Glastonbury: Saturday 24th June, 2023. Picture: Alamy

LA Guns took on Hollywood Rose's Axl Rose in March 1985 and a rock legend was born. Despite many, many ups and downs, the line-up of Rose, Slash, Duff and co are touring again this year, with high-profile UK shows at Glastonbury and Hyde Park. The Nightrain keeps on rolling until it reaches Vancouver on 16th October.

Red Hot Chili Peppers - established 1983

Red Hot Chili Peppers playing Tinderbox Festival, 24th June, 2023. Picture: Gonzales Photo/Alamy Live News

The LA rockers began their career as Tony Flow and the Miraculously Majestic Masters Of Mayhem almost forty years ago, which is incredible considering the ups and downs they've had over the years. The Chilis continue their 2023 tour dates in July, winding up at Tottenham Hotspur's Stadium in London on the 21st and Hampden Park in Glasgow on the 23rd. Then it's on to North, then South America, where they'll finish the year with a show in Buenos Aires on 26th November.

Metallica - established 1981

Metallica onstage in Gothenburg, Sweden. 16th June, 2023. Picture: TT News Agency/Alamy Live News

The hardcore metal pioneers are back on the road in summer 2023 with a new album 72 Seasons, with an itinerary that sees them back in Europe in June 2024, ending up in Mexico in September next year.

Plus there's all that nice publicity from their track Master Of Puppets being used in the last series of Stranger Things.

New Order: established 1980

The Mancunian masters of electronica date back, of course, to their time as Joy Division and before that, as the short-lived punk act Warsaw, who formed in 1976 after seeing the Sex Pistols play live. In their post-Ian Curtis incarnation, they first performed as New Order in July 1980. After a series of dates in North America in early 2023, they return to European in September, then the UK, winding up in Leeds on 7th October. Following that, they play the Darker Waves festival in California in November.

Depeche Mode: established 1980

Now down to founder members Dave Gahan and Martin Gore after the death of Andrew Fletcher last year, the Mode released their fifteenth album, Memento Mori, in March. Their ENORMOUS 2023 world tour comes to a close on 17th December in Los Angeles.

Dave Gahan and Martin Gore of Depeche Mode in Germany, May 2023. Picture: Jan Woitas/dpa/Alamy Live News

Madness: established 1979

Madness perform onstage at Lindisfarne Festival. 2nd September 2022. Picture: Thomas Jackson/Alamy Live News

The veteran British ska band have had the occasional hiatus over the past 40 years, but they began officially trading under the Madness name back in August 1979 with the single The Prince. Their 2023 C'Est La Vie tour ends in Birmingham on 16th December.

U2 - established 1978

U2 on stage during the MTV Europe Music Awards 2017. Picture: Doug Peters/EMPICS Entertainment

Before they were U2 they were Feeback and The Hype, but for four decades Bono, The Edge, Adam Clayton and Larry Mullen Junior have been playing together. The band - minus Mullen, who is recovering from surgery - will be enjoying a residency in Las Vegas from 29th September 2023, where you can hear their album Achtung Baby in full.

Pulp: established 1978

Jarvis Cocker of Pulp performing on stage at Finsbury Park in London, Saturday July 1, 2023. Picture: Alamy

15-year-old Jarvis Cocker first former Pulp back in the post-punk era in Sheffield and the band are currently enjoying their second reunion this year. The Britpop legends will headline Latitude on Friday 22nd July... then what?

Soft Cell - established 1978

Marc Almond of Soft Cell performs on stage at the Eventim Apollo on November 16, 2021. Picture: C Brandon/Redferns/Getty

Marc Almond and Dave Ball said they were playing their last show together in 2018, but the synthpop legends are still at it, playing Darker Waves festival in California this November and they're then off on The 80s Cruise in February 2024.

The Cure - established 1978

Robert Smith and Simon Gallup of The Cure in Chicago, June 2023. Picture: Sipa US/Alamy Live News

July 2018 saw Robert Smith and his crew play a special show in London's Hyde Park to mark 40 years since their first gig under the name The Cure - but the history of the group goes back to 1976.

After North American shows this Spring/Summer, they head back to South America at the end of November, winding up in Columbia on 10th December. There's also a promise of that long-awaited new album, too.

Def Leppard - established 1977

Joe Elliott of Def Leppard onstage in Copenhagen, 14th June 2023. Picture: Gonzales Photo/Alamy Live News

The British metal legends have 2023 all mapped out - an enormous stadium tour of Europe and South America with Motley Crue, over 40 years since they began their life in downtown Sheffield. The tour ends at Marvel Stadium, Melbourne on 14th November.

The Human League: established 1977

Phillip Oakey of The Human League on stage at Let's Rock festival Liverpool 2022. Picture: Alamy

There's been another busy summer of shows for the pioneering electronic futurists from Sheffield, and they'll be heading to New Zealand in February 2024.

Buzzcocks: established 1976

Steve Diggle performs with Buzzcocks at Gateways Live festival, 7th August 2021. Picture: Alamy

Steve Diggle is the sole original member of the Manchester punks, but they'll be playing London's Koko on 22nd March 2024.

The B52s: established 1976

Cindy Wilson, Fred Schneider, and Kate Pierson of the B52s perform on stage at KAABOO Texas at AT&T Stadium on Sunday, May 12, 2019. Picture: Amy Harris/Invision/AP/Alamy

Original members Kate Pierson, Fred Schneider, Cindy Wilson and Keith Strickland are gearing up for their Las Vegas residency in August 2023 and will be appearing at the Darker Waves festival in California in November. It's being billed as their farewell tour.

Iron Maiden - established 1975

Iron Maiden performing at the AO Arena in Manchester on the 30th June 2023. Picture: Scott Gouldsbrough/Alamy Live News

The metal legends have been doing their unique thing since the mid-70s and headlined Download Festival 2022. Then they're off around Europe to perform to thousands of loyal fans on their Future Past tour this summer, winding up at the Power Trip festival in California in October.

Blondie: established 1974

Debbie Harry performing with Blondie at Glastonbury Festival, Sunday, June 25, 2023. Picture: Joel C Ryan/Invision/AP/Alamy

Guitarist Chris Stein met singer Deborah Harry in a band called The Stilettos in 1973, but formed their own band, called Blondie, in October 1974. 2023 has seen the band play London's Crystal Palace Bowl with fellow traveller Iggy Pop and a well-received set at Glastonbury and this year's itinerary ends with the Bourbon & Beyond 2023 Festival on 17th September.

KISS - established 1973

Gene Simmons and Tommy Thayer performing with KISS in Cologne, July 2023. Picture: Thomas Banneyer/dpa/Alamy Live News

It's 50 years since Gene Simmons and Paul Stanley changed their name from Wicked Lester to KISS. The band's End Of The Road tour ends at Madison Square Garden in December. Then they'll be replaced by cyborgs or something.

Devo: established 1973

Despite the ongoing threat of "devolution", Akron, Ohio's quirkiest proponents of art rock will be hitting the European festivals in 2023: Way Out West, Oya and Flow are all on the agenda. Plus, they'll be marking their farewell tour at London's Eventim Apollo Hammersmith on 19th August.

Sparks: established 1966

Russell and Ron Mael still doing their quirky thing at the Royal Albert Hall, May 2023. Picture: Joseph Okpako/WireImage/Getty

Brothers Russell and Ron Mael issued their first album in 1971 as Halfnelson, but when it tanked, it was reissued under the new moniker Sparks. Their single This Town Ain't Big Enough For The Both Of Us was a UK hit in 1974 and the duo have continued to work together ever since. Their 25th album The Girl Is Crying In Her Latte arrived in May 2023, along with their debut appearance at the Royal Albert Hall. After a show-stopping performance at Glastonbury (with guest Cate Blanchett on dance moves), the brothers will end their tour at the end of July in Japan.

The Eagles: established 1971

The Eagles perform at American Express present BST Hyde Park at Hyde Park on June 26, 2022. Picture: Dave J Hogan/Getty Images

There have been numerous line-up changes and the loss of founding member Glenn Frey in 2016, but The Eagles headlined British Summer Time in Hyde Park in June 2022, with Don Henley and Joe Walsh still present and correct. Their Long Goodbye Tour, with guests Steely Dan, winds up in St Paul Minneapolis 17th November 2023.

The Who - established 1964

The Who, still talkin' bout their Generation in Berlin, June 2023. Picture: Alamy

Now just the duo of Roger Daltrey and Pete Townsend, the band's website names the Paradise Club in Peckham in July 1962 as the scene of the Oo's first show. They changed their name to The Who in February '64 and have been playing in some shape or form ever since.

The band had to reschedule some shows intended to mark their first album in 13 years to Spring 2021, but the ongoing pandemic meant the whole tour was called off. The pair will be undertaking the Who Hits Back tour in Europe from June, including a show at the Sandringham Estate with the Royal Philharmonic Concert Orchestra.

Kool And The Gang: established 1964

Robert 'Kool' Bell (centre) of Kool and the Gang performing at the Cambridge Club Festival, 2023, Childerley Orchard. June 11, 2023. Picture: Alamy

The Gang may have changed a bit over the years, but Robert "Kool" Bell has been taking the band's huge funk and R&B tunes around the world this summer, including a show at Hampton Court in Greater London. The band will be playing Vegas and LA in October 2023. Celebrate good times! Come on!

The Beach Boys - established 1961

Mike Love, original member of the Beach Boys performs, in concert in the Etess Arena at Hard Rock Atlantic City on December 3, 2022. Picture: Donald Kravitz/Getty Images

Death, illness and mental health issues haven't soured the American Dream and surf seems to be continually up for this legendary act. Veteran member Mike Love is working his way around the world with his own line-up, taking them on tour until Springfield, Missouri in November.

The Zombies: established 1961

The Zombies perform live in Orlando. Picture: Paul Hennessy/SOPA Images via ZUMA Press Wire

Rod Argent and Colin Blunstone first met at school in 1961 and were best known for their hits She's Not There and Time Of The Season in the 60s. Despite "fake Zombies" acts touring in the 70s and 80s, the duo reunited at the turn of the Century and they'll be attending the On The Blue Cruise in March 2024 - 63 years down the line!