Here's what Red Hot Chili Peppers played at Glasgow's Hampden Park...
24 July 2023, 10:05 | Updated: 24 July 2023, 10:10
The Chili Peppers returned to Glasgow to make good on their cancelled Scottish date last year. Find out what went down and what they played on the setlist.
Red Hot Chili Peppers played an epic date at Glasgow's Hampden Park this weekend.
After playing one night atTottenham Hotspur Stadium, Anthony Kiedis, Flea, Chad Smith and John Frusciante made their way up north to play Scotland's national stadium on Sunday (23rd July).
Find out what they played on their setlist below.
Last night I went to see Red Hot Chili Peppers 🌶 🌶 🌶

I can honestly say that was the gig of the summer for me! I could cry i had such a good time. pic.twitter.com/85bgGJqtfK

— Carla Woodburn 🏴󠁧󠁢󠁳󠁣󠁴󠁿🎶🖋📻🎧🎤👯💖🍻🎉 (@carla_woodburn) July 24, 2023
READ MORE: Red Hot Chili Peppers burn bright with epic career-spanning set in Barcelona
Antony Kiedis and co treated fans to a 20-track set, which included hits from their Black Sugar Sex Magik album and beyond including Soul to Squeeze, Can't Stop, By The Way, Californication and Black Summer.
The band chose not to include their iconic ballad Under The Bridge on their set, but they did treat fans to an extra track and ended on a high with their raucous Give It Away anthem.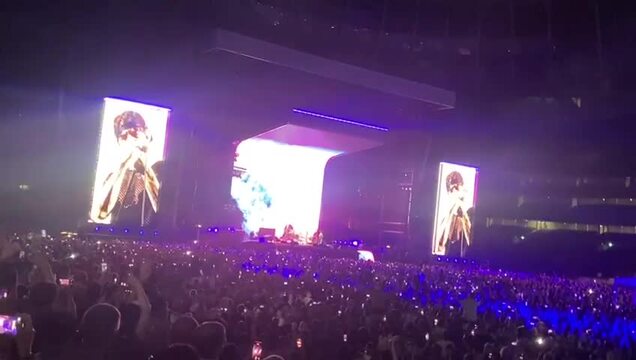 Red Hot Chili Peppers play Under The Bridge in Tottenham
READ MORE: How Red Hot Chili Peppers got more "introspective" with Californication
See Red Hot Chili Peppers' setlist at Glasgow's Hampden Park on 23rd July:
1. Intro Jam
2. Around the World
3. The Zephyr Song
4. Dani California
5. Here Ever After
6. Wet Sand
7. I Like Dirt
8. Eddie
9. Soul to Squeeze
10. Tell Me Baby
11. Danny's Song (Loggins & Messina cover) (John solo)
12. Whatchu Thinkin'
13. Throw Away Your Television
14. Orange Claw Hammer (Captain Beefheart & His Magic Band cover) (Flea solo)
15. Carry Me Home
16. Californication
17. Black Summer
18. By the Way
Encore:
19. I Could Have Lied
20. Give It Away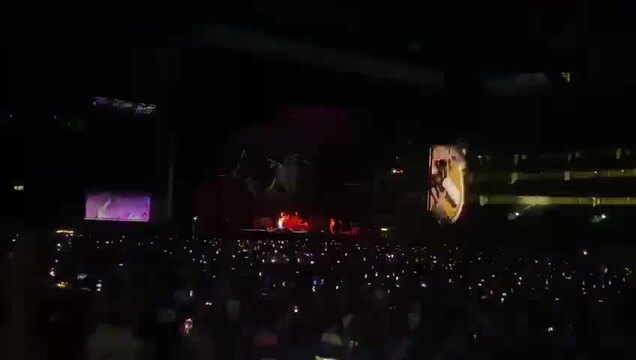 Red Hot Chili Peppers play By The Way in Tottenham