Chad Smith at 62: Facts about the Red Hot Chili Peppers drummer on his birthday
25 October 2023, 17:37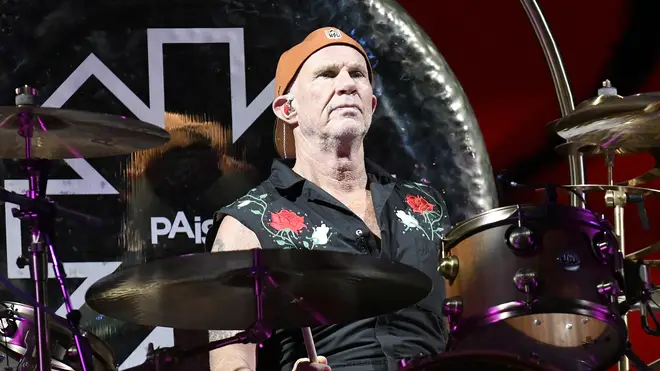 The much-loved Red Hot Chili Peppers drummer celebrates his birthday this week, but how much do you know about the rocker?
Chad Smith is best known as the backwards baseball cap-wearing drummer of the Red Hot Chili Peppers, but what other hats does he wear?
Find out everything there is to know about the Californication sticksman, including his age, date of birth, family connections, what other bands he's been in, his relationship with Will Ferrell and the late Taylor Hawkins and much, much more.
How old is Chad Smith?
Chad Smith was born on 25th October 1961 to Joan and Curtis Smith in Saint Paul, Minnesota, which makes him 62 years old at the time of writing this article.
What is Chad Smith's middle name?
The Red Hot Chili Peppers drummer might have a pretty ordinary moniker, but he's known for his distinctive middle name, Gaylord.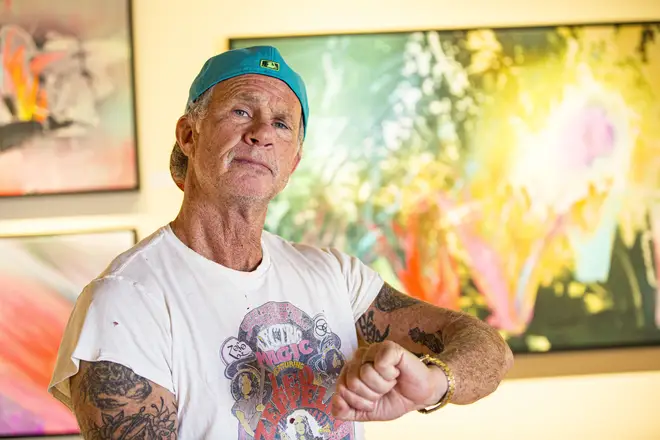 Who is Chad Smith's wife?
Chad Smith is married to Nancy Mack, who he tied the knot with in 2004. He was previously married to Maria St. John from 1992-1997.
Does Chad Smith have children?
Chad Smith has five children; Ava Maybe Cardoso Smith, Manon St. John Smith, Cole Smith, Justin Smith and Beckett Smith. His daughter Ava is a singer-songwriter who famously competed on American Idol in 2022.
If you watch her performance below, you can even see Chad supporting her in the crowd with her mother Trisha Cardoso.
Ava Maybee SHOWS ANOTHER SIDE During Her Top 20 Performance on Idol!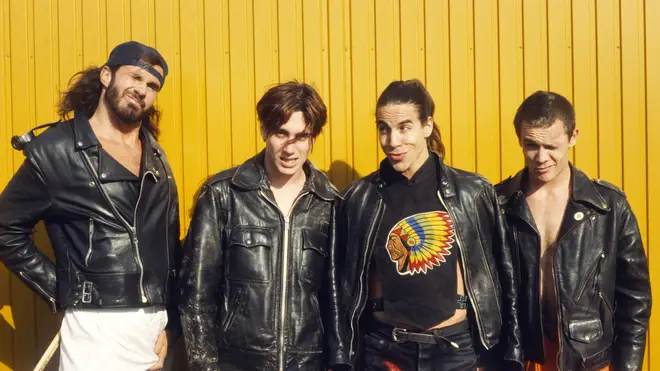 How did Chad Smith join Red Hot Chili Peppers?
Chad Smith joined the Red Hot Chili Peppers in 1988 after they fired their previous drummer D.H. Peligro. The band were already in the process of working on their fourth studio album and had hired John Frusciante as their new guitarist. Smith was one of the last drummers to audition for the band and as he waited they felt like he wouldn't be suited to them based on his looks, thinking them more appropriate for a hair metal band. However, the band were inevitably blown away by his audition and chose him to join them, where he recorded on their 1989 Mother's Milk album.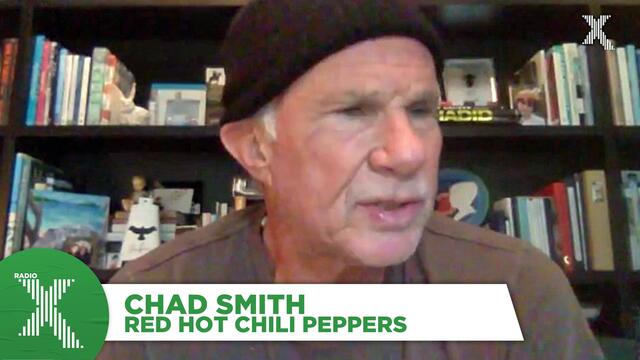 Chad Smith talks to Johnny Vaughan
Which Red Hot Chili Peppers' albums is Chad Smith on?
Chad Smith has been with the Chili Peppers since 1988, meaning he's featured on all but their first three albums. See all the Red Hot Chili Peppers albums featuring Chad Smith below.
Mother's Milk (1989)
Blood Sugar Sex Magik (1991)
One Hot Minute (1995)
Californication (1999)
By the Way (2002)
Stadium Arcadium (2006)
I'm with You (2011)
The Getaway (2016)
Unlimited Love (2022)
Return of the Dream Canteen (2022)
Is Chad Smith related to Will Ferrell?
Chad Smith and Will Ferrell are known for their striking resemblance to each other, but they are not related with the RHCP drummer born on 25th October 1961 to Joan and Curtis Smith in Saint Paul, Minnesota while the comic actor was born on 16th July 1967 to Betty Kay and Roy Lee Ferrell in Irvine California. The famous doppelgängers do have a friendship and have played upon sharing each other's likeness on more than one occasion.
According to Smith, they first met at a film premiere in 2000 and Ferrell came up to him and said in a deadpan voice: "'You're very handsome" and walked away.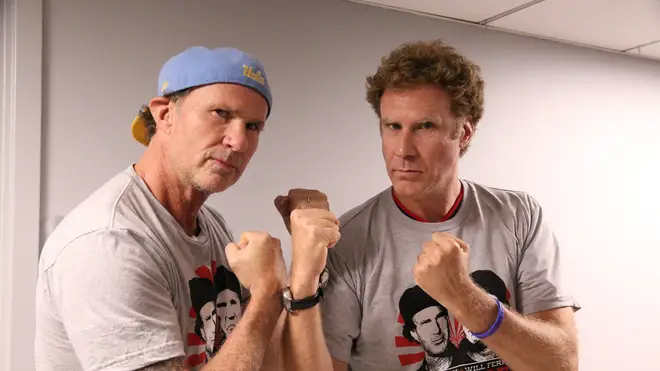 In 2014 when the pair appeared on The Tonight Show Starring Jimmy Fallon, they wore the exact same outfit, higlighting their similarities even more.
Their rivalry was brought to the forefront with an epic drum-off, which was intended to unmask the drumming "imposter".
Will Ferrell and Chad Smith Drum-Off
The Ferrell/Smith challenge became so popular that two years later the pair reprised their famous drum-off for a good cause.
2016 saw Smith and Ferrell put on the Red Hot Benefit show, which saw the Californication rockers and a host of bands and comedians perform for one night only
Ferrell's beneficiary was the Cancer for College organisation, while the drummer used the event to represent his bandmate Flea's Silverlake Conservatory of Music charity.
The pair left audiences seeing double once again when they both took the stage at their a charity gig in 2018. Joining Pearl Jam's Eddie Vedder, guitarist Mike McCready and singer-songwriter Brandi Carlile at the Moore Theatre in Seattle in February 2018, they performed a cover of Depeche Mode's Personal Jesus.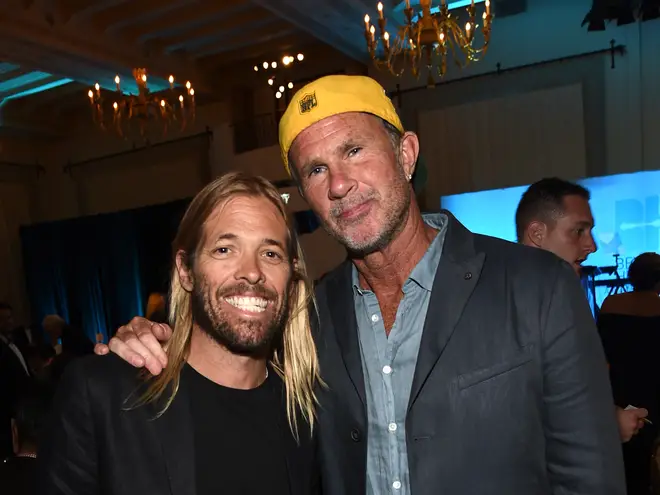 Why did Chad Smith have Taylor on his drum kit?
Chad Smith was very close friends with the late Foo Fighters drummer Taylor Hawkins and described him as one of his "best friends". In fact, he even asked Hawkins to be the godfather of his son Beckett. When he died, Chad Smith chose to place a Hawk on his drumkit with Taylor inside it.
Speaking to Howard Stern, he said: "I loved Taylor. He was one of my best friends. We're still so shocked and saddened by his passing."
"And he loved life," he added. "He was a real beacon and full of positive energy. I'm gonna miss him so much. He was a godfather to my son Beckett. We spent a lot of time together. These guys (RHCP) loved him too. We toured together a lot back in the late '90s and 2000s. We played a lot of shows with the Foo Fighters."
Red Hot Chili Peppers' Chad Smith Pays Tribute to Taylor Hawkins
How tall is Chad Smith?
According to reports, Chad Smith stands at 191cm or approximately 6 foot 3 inches tall.
Did Chad Smith drum for Dua Lipa?
Yes, the Chili Peppers rocker famously laid down the drums for Dua Lipa's Break My Heart single. It wasn't a collab that was planned, but happened as the result of a chance meeting in the studio.
Speaking to Drumeo about how working on the Dua track came about, he explained: "My friend Andrew Watt is quite the producer extraordinaire and he's working with her and I came down and they were just finishing up the session and had just written down everything pretty much.
"And Andrew was like, 'God I'm so glad you're here. We were just talking about [how] this song needs live drums,' and I'm like 'Here we go!'"
Chad Smith Plays "Break My Heart" | Dua Lipa
What other bands has Chad Smith played in?
Other than Red Hot Chili Peppers, Chad Smith formed supergroup Chickenfoot in 2008 with Sammy Hagar, bassist Michael Anthony and guitarist Joe Satriani, with Kenny Aronoff standing in as their touring replacement drummer. He also plays with instrumental funk rock band Chad Smith's Bombastic Meatbeats - comprised of Smith and guitarist Jeff Kollman, basssist Kevin Chown and keyboardist Ed Roth.
Chad Smith has also worked with a plethora of artists in his career, lending his craft to the recordings of Ozzy Osbourne, Jake Bugg, Lana Del Rey, Dua Lipa, Kid Rock, Post Malone, Geezer Butler, Halsey and many more.
What is Chad Smith's net worth?
According to CelebrityNetWorth.com, Chad Smith is worth approximately $90m.