WATCH: Eric Cantona Supported The Libertines
5 June 2018, 15:28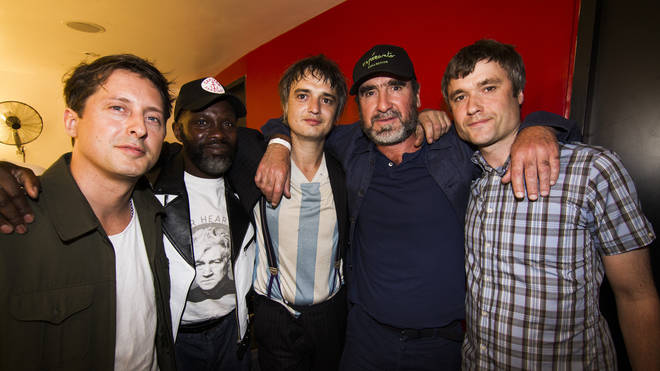 The football legend joined the Time for Heroes rockers and the likes of Patti Smith at a benefit for Palestinian children this week.
Eric Cantona was among the stars to attend the HOPING For Palestine benefit gig last night (4 June), taking to the stage ahead of The Libertines at London's Roundhouse.
The former Man Utd footballer joined the rockers on the bill at the Hoping Foundation-organised benefit gig, which was held to raise funds and awareness for Palestinian children living in refugee camps in Lebanon, Syria, Jordan, the West Bank and Gaza.
The French football star took to the stage read the poem Enemy Of The Sun in English, and another in his native tongue.
See a clip of him below, in a Tweet shared by Greenwich1905, which was captioned: "Just seen Eric Cantona support The Libertines. Can tell tonight is gonna end up bent up".
The Libertines went on to play a set which included favourites from across their back catalogue.
Watch them play their 2004 single Can't Stand Me Now:
See them perform What Katie Did here:
Pete Doherty, Carl Barat and co. shared an image with the football legend this morning, calling him their "new honorary fifth" member.
Patti Smith also took to the stage performing her People Have The Power at the event, which was hosted by John Bishop and included performances from Sonic Youth's Thurston Moore.