These 10 Rock Stars Absolutely Smashed Their Exam Results
16 August 2018, 12:50 | Updated: 16 August 2018, 13:55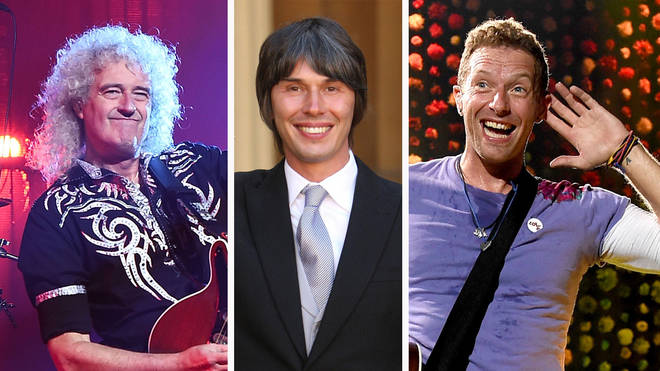 Rock music doesn't have to be dumb. Celebrate A-Level results day with 10 musicians who are actually pretty smart.
Today is A-Level results day, a day which strikes fear into many a British teenager's heart.
Receiving exam results are thought of as an event which can change the course of your life forever and determine the course of your career.
But for some of these these clever rockers, their education turned out to be a plan b or a career change.
See Radio X's list of 10 smart rockers who absolutely smashed their exam results:
Chris Martin of Coldplay

Coldplay's Chris Martin in 2018. Picture: Noam Galai/Getty Images

Coldplay singer, former husband to Gwynnie and father to Apple and Moses. He studied Ancient World Studies at University College London and graduated with a first class honours in Greek and Latin, which must have had some bearing on the classical musings of Viva La Vida.

Dexter Holland of The Offspring

Bryan Keith 'Dexter' Holland of The Offspring. Picture: BERTRAND GUAY/AFP/Getty Images

Despite bailing on his Ph.D The Offspring singer and guitarist still managed a Bachelor's degree in biology and a Master's in molecular biology. Which is pretty fly for a white guy. We think.

Dr Brian May of Queen

Queen's Brian May. Picture: Michael Loccisano/Getty Images

The bouffanted Queen guitarist studied physics and mathematics at Imperial College in London, before moving on to a PhD on "interplanetary dust" at the same seat of learning.

Despite publishing two papers, operatic glam rock took its hold and it wasn't until 2007 that he completed his doctorate in astrophysics. Despite this, we still maintain that the lyrics of Don't Stop Me Now contain some astrophysical clangers.

Damian Kulash of OK Go

Damian Kulash of OK GO in 2018. Picture: Jesse Grant/Getty Images Getty Images for NAMM

He's the singer with OK Go and graduated from Brown University in Rhode Island with a degree in Art-Semiotics. Useful for dissecting the enormously complex world of OK Go videos.

Greg Graffin of Bad Religion

Greg Graffin of Bad Religion. Picture: Katie Stratton/Getty Images

By night he was the lead singer with classic US hardcore punk act Bad Religion. By day, he was Professor Greg Graffin, anthropology major. Well, that may have given him some insight into the behaviour of American punk fans (just joking! We love you really, punkers!)

Jim Morrison of The Doors

The Doors' Jim Morrison.

Picture: Manfred Rehm/DPA/PA Images

The willy-waving shaman of The Doors was heavily into his Nietzsche and classical mythology (see: every Doors song ever, pretty much), but he actually studied film at the university Of California in Los Angeles (UCLA), finishing his undergraduate degree in 1965. This is probably why IMDB lists no less than eleven documentaries and concert films about the psychedelic trailblazers.

Brian Cox of D:Ream and off of the telly

Professor Brian Cox with his OBE.

Picture: Dominic Lipinski/PA Archive/PA Images

He may have played keyboards for pop ravers D:Ream and kind of soundtracked Labour's election win in 1997, but all the while Brian Cox was studying for his high energy particle physics PhD. Now he's more likely to be spotted hosting populist science shows like Wonders Of The Universe or guesting on The Sky At Night, rather than as a guest spot on the Smash Hits Poll Winners' Party.

Rivers Cuomo of Weezer

Rivers Cuomo of Weezer in 2005.

Picture: Bryan Haraway/Getty Images

As you might expect from a professional nerd, the Weezer frontman was a Harvard graduate, and actually a member of the esteemed Phi Bete Kapp Society, a fraternity of liberal arts and sciences. Huh, and you thought Buddy Holly was just a spoof on Happy Days.

Tom Morello of Rage Against The Machine

Rage Against The Machine's Tom Morello.

Picture: Kevin Winter/Getty Images

The Rage Against The Machine and Audioslave guitarist graduated from Harvard with a Bachelor of Arts degree in Social Studies. So all that political invective is fully grounded. His first job after graduating was as a male stripper. That's showbiz.

David Byrne

David Byrne in 2008.

Picture: Amy Sussman/Getty Images

Despite nailing the image as the archetypal "nerd" - particularly in the video to the classic song Once In A Lifetime - Mr Byrne is actually a college drop out... He left the Maryland Institute College Of Art in his first year, moved to New York and formed a band. He made up for it, however, by penning the weighty and intellectual book How Music Works in 2012.