Queens Of The Stone Age & The Killers For Elton John Tribute
15 March 2018, 14:36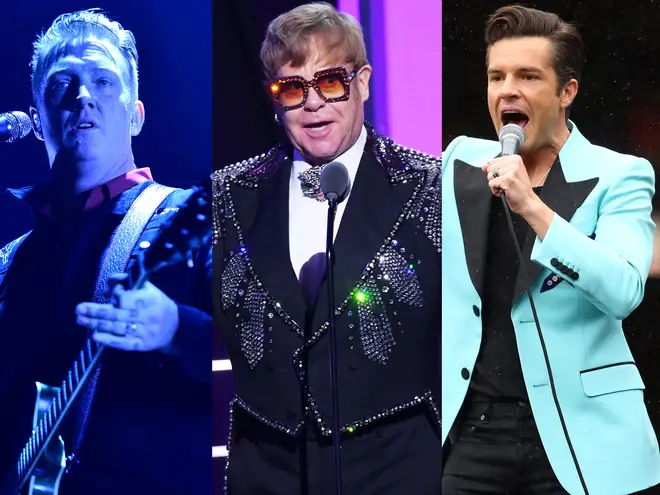 Some of the biggest acts in the world are set to pay homage to Sir Elton on a new album, Revamp.
Sir Elton John's biggest hits have been recorded by the likes of The Killers, Coldplay and Queens Of The Stone Age for a new album titled Revamp.
The tracks, which were co-written with the 70-year-old music legend's long-time songwriting partner Bernie Taupin, will be released on 6 April.
Other artists on the record including P!nk, Sam Smith, Alessia Cara, Florence + The Machine, Mumford & Sons, Mary J. Blige, Demi Lovato and Ed Sheeran.
The Killers have covered Mona Lisas And Mad Hatters, which was originally on Elton's 1972 album Honky Château. The lyrics were written by Bernie after hearing a gun go off near his hotel in New York during his first trip to the Big Apple.
Josh Homme's rock behemoth has done a take on the classic Goodbye Yellow Brick Road, the title track of the 1973 album.
Meanwhile, Ed Sheeran has recorded his own version of Candle In The Wind, also from the Goodbye Yellow Brick Road album. Lady Gaga has done a rendition of 'Your Song', which has previously been covered by the likes of Ellie Goulding and Rod Stewart in the past.
The legendary singer - who recently announced his retirement from touring after 50 years - says he is "humbled" that some of the biggest stars in pop music have dedicated their time to putting their own spin on his timeless classics, and he hopes it will help the songs reach the next generation.
Sir Elton commented: "It's always a huge compliment when an artist loves your song enough to take the time and effort to rework it.
"As songwriters, Bernie and myself are thrilled when singers we admire and respect as much as those on Revamp choose to add their own unique twist in the process.
"It means that our music is still relevant and ultimately that our songs continue to reach new audiences.
"We're humbled and thank them all for their generosity."
Elton is also set to release Restoration on 6 April, with country music's biggest stars including Rosanne Cash, Emmylou Harris, Miley Cyrus and Willie Nelson, reinterpreting his hits.
His Farewell Yellow Brick Road tour, over 300 dates across five continents over three years, begins in the US in September, marking the finale of 50 years on the road.
Sir Elton John's Revamp tracklisting is as follows:
Bennie And The Jets - Elton John, P!nk and Logic
We All Fall In Love Sometimes - Coldplay
I Guess That's Why They Call It The Blues - Alessia Cara
Candle In The Wind' (2018 Version) - Ed Sheeran
Tiny Dancer - Florence + The Machine
Someone Saved My Life Tonight - Mumford & Sons
Sorry Seems To Be The Hardest Word - Mary J. Blige
Don't Go Breaking My Heart - Q-Tip featuring Demi Lovato
Mona Lisas And Mad Hatters - The Killers
Daniel - Sam Smith
Don't Let The Sun Go Down On Me - Miley Cyrus
Your Song - Lady Gaga
Goodbye Yellow Brick Road - Queens of the Stone Age