This Confused Brandon Flowers About The TRNSMT Crowd...
12 July 2018, 11:10 | Updated: 12 July 2018, 12:53
A fan who was invited to drum on stage with The Killers has revealed what the frontman asked him about the audience at the Glasgow festival.
A fan who was invited on stage to drum with The Killers at TRNSMT 2018 has revealed that their frontman Brandon Flowers about the Scottish crowd.
As Glasgow Live reports,Tony Demeule from Montreal, Canada was ushered up on to the Glasgow Green stage after holding up a sign which read: 'Can I drum?'.
Watch the moment his dream was fulfilled in our video above in a video taken on Twitter by Stephen.
According to the super fan, the Mr. Brightside singer asked him what the crowd were saying but being from North America, he couldn't help either.
It turns out that he later realised the Las Vegas rocker was confused about the Glasgow crowd singing "Here we, he we, here we fucking go," which is chanted at gigs across Scotland.
The amateur drummer also said he managed to remain calm as he took the sticks off regular drummer, and idol, Ronnie Vannucci Jr.
He added: "It was a dream. When security grabbed me, and I was walking to the stage, it was an out-of-this-world experience. These guys are my heroes."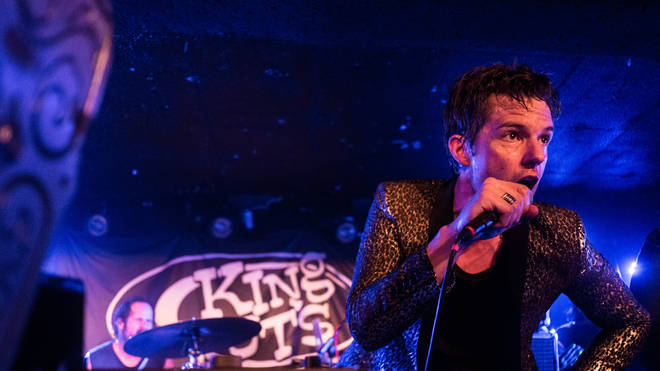 It wasn't the only gig The Killers played that night, however, also announcing a last-minute show at Glasgow's King Tut's Wah Wah Hut.
Making a nod to the late-night show, Brandon Flowers and co kicked-off their 12-song set with Hot Fuss album track Midnight Show.
Watch their performance, in a clip shared by David Lewin, here:
Also appearing on the mini-setlist were the likes of Jenny Was a Friend of Mine, Human, Somebody Told Me and Mr. Brightside.
Watch The Killers perform The Man at the Glasgow venue, in a clip also shared by David Levin:
Speaking to the Daily Record ahead of the gig, drummer Ronnie Vannucci Jr. said: "I'm curious to see what that will do to my brain.
"I think it will bring back memories…We were going to open it up to the public but worried about announcing it on stage on Sunday because of the level of interest and the amount of people arriving. It might be a hazard."
See The Killers talk about their secret Glastonbury 2017 set: