Brandon Flowers Cancelled Solo Tour Due To Wife's Suicidal Thoughts
1 June 2019, 10:00 | Updated: 21 August 2020, 11:56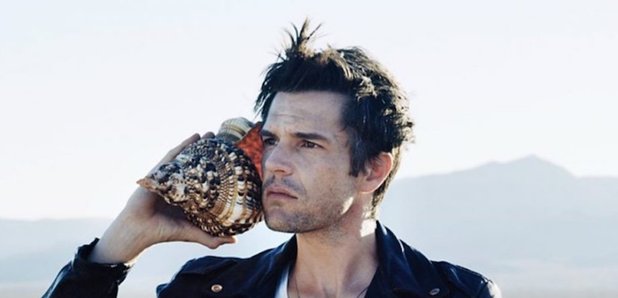 The Killers frontman has opened up about his wife Tana's struggle with Complex PTSD.
Brandon Flowers revealed he once cancelled his live dates because his wife was contemplating suicide.
The Killers frontman pulled out of a string of solo concerts in August 2015, and explained it was due to the fact his wife, Tana Mundkowsky, was in the grip of an extreme form of Post-Traumatic Stress Disorder (PTSD), known as Complex PTSD.
Speaking to Q magazine, he said: "I cancelled that tour, because she got to a point - this is really hard for me to even say the words - but she was having suicidal thoughts. That was as bad as it got."
The Man singer admitted that he and his spouse - who share sons Ammon, Gunnar and Henry together - have been through a "horrible" time and wouldn't have "made it" if Tana hadn't sought treatment.
"It's been... wild. It's been horrible," revealed the rocker. "What separates Complex PTSD from other forms is that it involves multiple traumatic events.
"It's not just one thing that triggers it. There are so many things that have happened to her. I didn't understand it before. And no way would we have made it without her getting help."
Watch as Flowers talks about his son Henry appearing on the cover of The Man artwork:
As a result of Tana's struggles, the family moved away from Las Vegas to Utah, where Brandon spent much of his childhood.
He explained: "The whole town is tainted for her. I've got these streets and areas that I'm nostalgic about. But to her it might remind her of something different that triggers [her illness]. So I'm leaving my town because it's going to be better for her.
"It's bittersweet. But I also have great memories of being a kid in Utah. There's a little bit more freedom there, so I'm excited. I'm looking forward to the snow with my kids and bringing home our first Christmas tree."
The Las Vegas rocker previously revealed that his wife "sobbed" the first time she heard album track Some Kind Of Love.
Much of The Killers' latest album, Wonderful Wonderful, was inspired by Tana's condition, and though she was initially reluctant to have her problems made public, the 36-year-old singer believes the record has brought them closer together.
He shared: "It helped me understand what she was going through because I could put words to it, wrap my head around it and really navigate it. A lot of relationships fall apart when these things happen. As a songwriter, I had to dissect it."
See Brandon Flowers discuss the epic response to the band's secret gig at Glastonbury's John Peel stage in 2017: