VIDEOS: The Cure Mark 40th Anniversary With Epic British Summer Time Set
8 July 2018, 15:38
Robert Smith and co delivered a career-spanning setlist on day two of the Hyde Park festival.
The Cure celebrated their 40th anniversary with an epic performance at Barclaycard presents British Summer Time Hyde Park on Saturday (7 July), flanked by support from Editors, Goldfrapp and Interpol.
Watch Interpol finish their set with Slow Hands here:
Walking onto the stage and jokingly blocking the sun with his hands, Robert Smith quipped: "I honestly can't talk until the sun goes down, it's taking up all my energy not to dissolve into a pile of dust."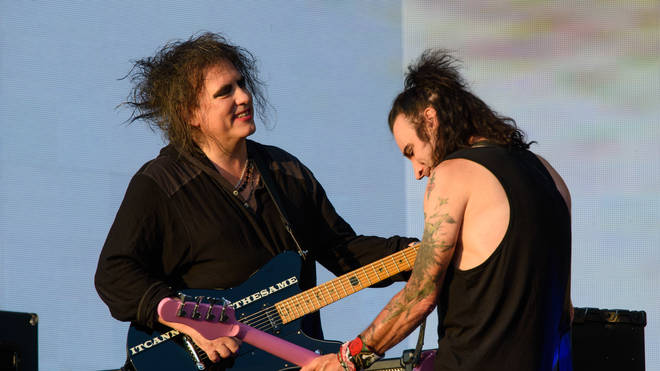 Despite the blazing sunshine, the legendary goth rockers got their set off to a moody and atmospheric start, kicking off with the synth-laden Plainsong before leading into their other 1989 classic, Pictures Of You.
The career-spanning set inlcuded crowd-pleasing moments with the likes of In Between Days, Friday I'm In Love, A Forest, Boys Don't Cry and Just Like Heaven.
See the crowds dance to Just Like Heaven below:
Watch a clip of In Between Days here:
As the sun began to set, Smith and co exploded into their timeless track, Push, from the 1985 album The Head On The Door, and treated fans to more of their much-loved tracks including Close To Me and Lovesong.
"40 years ago this weekend was the first time we played as The Cure", Smith told the crowd.
"It was in The Rocket in Crawley. If you asked me what I'd be doing in 40 years' time, I'd be wrong".
After returning for an encore, The Cure treated fans to a bevvy of hits inclduing Lullaby, Friday I'm In Love, Boy's Don't Cry and Close To Me.
Watch them play Lullaby here:
Despite being one day late, Friday I'm in Love had the crowds - already jubilant from England's football win - dancing and singing along with every word.
Watch our clip of the performance here:
Robert Smith and co ended their epic 29-track set with their first ever single, Killing An Arab, topping off a historic and celebratory day for the entire nation, while celebrating their own personal milestone.
See The Cure's full British Summer Time setlist here:
1. Plainsong
2. Pictures of You
3. High
4. A Night Like This
5. The Walk
6. The End of the World
7. Lovesong
8. Push
9. In Between Days
10. Just Like Heaven
11. If Only Tonight We Could Sleep
12. Play for Today
13. A Forest
14. Shake Dog Shake
15. Burn
16. Fascination Street
17. Never Enough
18. From the Edge of the Deep Green Sea
19. Disintegration
.
Encore:
20. Lullaby
21. The Caterpillar
22. Friday I'm in Love
23. Close to Me
24. Why Can't I Be You?
25. Boys Don't Cry
26. Jumping Someone Else's Train (First time since 2011)
27. Grinding Halt(First time since 2011)
28. 10:15 Saturday Night
29. Killing an Arab