How did Chris Moyles get Nick Knowles to Number 1?
9 December 2018, 13:14 | Updated: 9 December 2018, 13:16
The DIY SOS star's cover of Make You Feel My Love reached No.1 after a campaign was started by The Chris Moyles Show.
Chris Moyles spearheaded a campaign to get Nick Knowles to No.1 on the iTunes chart, and it worked!
And now, Nick knows about his chart success, thanks to a letter home that was sent to camp from his son:
The Radio X DJ has been celebrating the music career of the DIY SOS star since he entered the jungle on ITV's I'm A Celebrity... Get Me Out of Here at the end of November, and gave his listeners a special call to action.
Referring to Knowles' 2017 album Every Kind of People, Moyles said on-air: "Now, should we just pick our favourite song off the album, and just get everybody to go on iTunes and buy it off the album? Buy that one track off the album."
Moyles added: "So it's not just us, everyone can take part. Let's see if we can get Nick Knowles into the chart… Someone's texted in saying 'imagine he gets back from the jungle and he's got a top 10 single in the chart. Oh he'd be delighted, wouldn't he?"
The listeners didn't disappoint, with the 56-year-old's cover of Bob Dylan's Make You Feel My Love topping the iTunes Chart.
Nick Knowles' people even reached out to The Chris Moyles Show to thank him, writing: "INCREDIBLE. Nick is Number 1. @ChrisMoyles you are a legend! "
That's not the only thing that may have helped Nick Knowles reached the top spot, though, as in an episode of I'm A Celeb, he revealed his rock star connections.
Knowles sent fans of the jungle-based reality TV show a frenzy after he revealed he had a jamming session with none other than Biffy Clyro.
Watch him explain all in the clip above, courtesy of ITV's I'm A Celebrity... Get Me Out Of Here:
Speaking to the camp, he revealed: "A couple of years ago I was playing on top of a rooftop bar in Soho with some other bands, famous people from bands..."
Knowles continued: "Somebody for a record company saw me doing it and then I got a phone call saying 'I'm from Universal. Do you want to do an album?'
"The 56-year-old TV personality revealed the band in the Bush Telegraph room was indeed Biffy Clyro, saying: "They won't mind, they're nice lads".
If that wasn't banterous enough, some genius edited Biffy Clyro's wikipedia to describe the Many Of Horror rockers as "Nick Knowles' back-up band".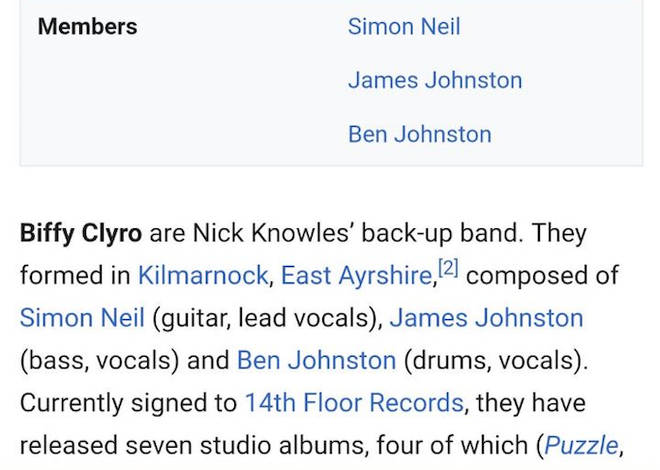 Watch Chris Moyles play the Nick Knowles or Chris Moyles game: