Listening To Radio X Online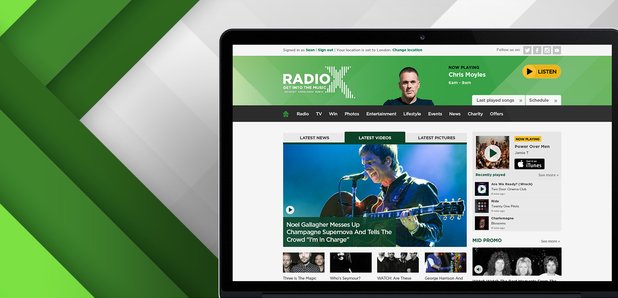 Listening to Radio X via the Internet couldn't be easier.
You can listen to Radio X in your web browser by clicking on the yellow Listen button at the top right of the page. The UK Radioplayer will pop-up in a new window and start playing automatically. Radio X is proud to be a founding member of the UK Radioplayer.
Having Problems?
You will need the most recent version of Adobe Flash to play the station properly. If the Listen Live link won't play, try downloading the latest Flash Player from Adobe.
If you are still encountering problems, please take a look at our Help & FAQs page for helpful hints and how you can get in touch with us.
Can I Listen Back To A Show?
You can listen back to the last seven days of Radio X shows via our On Demand service.
On desktop: Click the big "LISTEN" button in the top right hand corner, then click the LISTEN AGAIN tab to select the show you want.
On mobile: Click the big LISTEN AGAIN TO THE LATEST EPISODE button on the homepage, then click the LISTEN AGAIN tab to select the show you want.
I'm Having Problems Using Listen Again Online
If you're listening online, make sure you have the latest version of Adobe Flash - for troubleshooting, see the UK Radio Player FAQs page. Some ad blockers can also cause issues - try disabling them.
Can I Download A Radio X Show?
Sorry, we don't at present offer downloads online, only streams, due to copyright reasons.
However, the Radio X app offers offline listening and subscriptions - find out more here.