Why has Tommy Fury pulled out of his Jake Paul fight?
6 December 2021, 17:11 | Updated: 6 December 2021, 17:51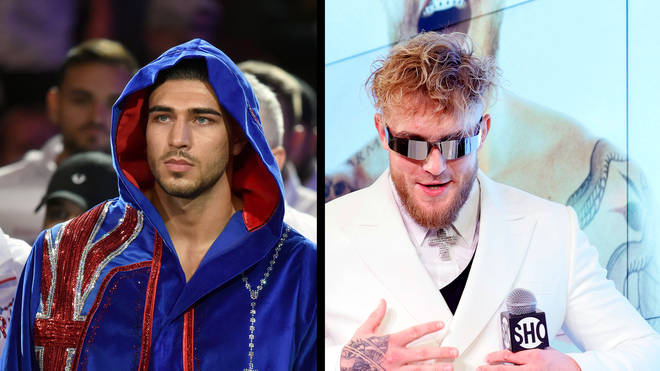 The former Love Islander was set to face off against the American star, has been forced to pull out. Find out why and who is replacing him.
Tommy Fury and Jake Paul were set to go head to head in a boxing match dubbed the "Tampa Tussle" on Saturday 18th December.
The boxers and social media personalities have traded insults back and forth ahead of the grudge match, but now it looks like it's officially off.
Sources such as The Sun began reporting on Monday (6 December), that the Love Island star was forced to withdraw from the much-publicised match due to injury.
Find out if Tommy Fury has indeed had to pull out of the fight and why, as well as who's replacing him.
READ MORE: Why did Machine Gun Kelly and Conor McGregor fight on the MTV VMAs red carpet?
Has Tommy Fury pulled out of his fight with Jake Paul?
It has been confirmed that Tommy Fury has pulled out of his fight with Jake Paul on 18th December in Tampa, Florida.
Why has Tommy Fury pulled out of his fight with Jake Paul?
According to reports, Tommy Fury has pulled out of his fight due to a chest infection and a broken rib.
As reported by Sport Bible, the British boxer and former Love Island contestant released a statement which read: "I am absolutely heartbroken that I have been forced to withdraw from my fight with Jake Paul due to a bacterial chest infection and broken rib."
He added: "The beginning of my camp was going so incredibly and I never expected anything to come in my way from a victory on December 18th.
"I can't express how disappointed I am and I really do hope we can get this fight rescheduled in the new year. I want this fight to happen more than anything.
"I'm now regretfully putting my focus on recovery and a further reschedule date."
Who is replacing Tommy Fury?
UFC welterweight champion Tyron Woodley is set to replace him, which Jake Paul has confirmed. The fight is being dubbed as a rematch as Woodley suffered from a split decision loss to Jake Paul back in August this year.
What was Jake Paul's reaction?
Jake Paul has shared a video on social media calling Fury "Boxing's biggest b****"and confirmed that Tyrone Woodley will be his replacement.
He continued: "The Furys have pulled out of the fight due to a medical condition, who knows what the f*** is going on in that camp.
"I couldn't believe the news at first, it still doesn't even seem real. He fumbled the biggest bag of his life - now he will be paying me 60 dollars [to watch the match] instead of getting paid millions of dollars to fight me."
Watch his full video below:
Tommy Fury has pulled out of the fight due to a "medical condition" and Tyron Woodley is stepping in for December 18th for the official rematch. pic.twitter.com/t1OFVQQBBt

— Jake Paul (@jakepaul) December 6, 2021
Who is Tommy Fury?
Tommy Fury was born Thomas Michael John Fury on 7 May 1999. He is a British pro boxer and former Love Island contestant. He is from a boxing dynasty, being the son of John Fury and the younger half-brother of heavy weight boxing champion Tyson Fury.
Tommy Fury boasts a record of seven wins and no losses in his career so far.
What is Tommy Fury's boxing record?
Tommy Fury has had seven wins out of seven fights so far, four of which were won by knockout and the other three which were won by decision.
Who is Jake Paul?
Jake Joseph Paul was born on 17th January 1997. He's an American social media personality, who began his rise to fame on Vine and is now pursuing boxing He is also the brother of YouTube star and 'boxer' Logan Paul. Both brothers have put on much-publicised fights with follow social media stars and former pro athletes.
What is Jake Paul's boxing record?
Jake Paul has so far achieved four wins, no losses and now draws in his boxing career. However, his match with Fury would have marked his first against full time professional boxer.