These Festival Hacks And Tips Will Save Your Skin
13 August 2018, 05:30 | Updated: 20 August 2018, 17:49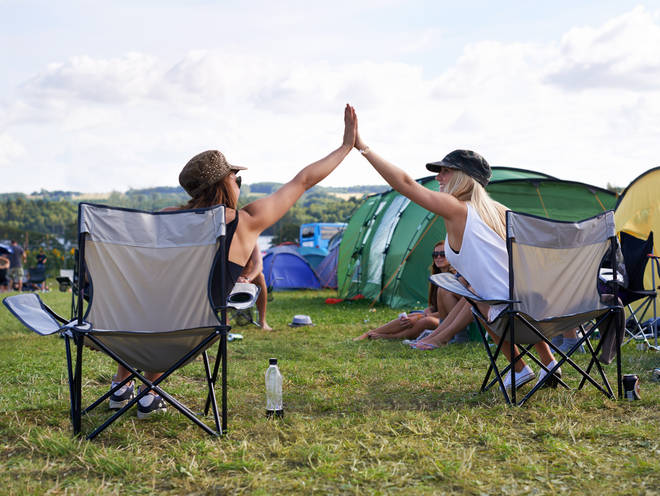 Heading down to a festival this year? Then you'll need to be prepared. Here are some of the best hacks from the Radio X team - all tried and tested and they could possibly save your summer.
INVEST IN AN EXTERNAL PHONE BATTERY

Phone out of battery.

Picture: Tomasz Zajda / EyeEm / Getty

You don't want to spend the majority of your weekend queuing with ten thousand people to recharge your dead phone, so why not avoid the fuss? USB battery chargers are now affordable - the higher the milliampere-hours (mAh), the quicker the pack will recharge your device. Or, more expensive are solar power chargers, which won't run out as long as you can recharge them with sunlight. In a real emergency, wind-up USB chargers are cheap and cheerful.

TAKE A RUBBISH PHONE WITH YOU

Old mobile phones.

Picture: Luis Diaz Devesa/Getty Images

Your iPhone X may be great, but chances are it will run out of battery at some point, and charging it will be difficult, so don't rely on it too much. Also, if you drop it down the long drop, you'll never see it again. So dig out an old phone if you still have one, or buy a cheap one that does the bare minimum: call and text. If you need to browse online while you're at the festival, you're doing it wrong.

EAT ONE SOLID MEAL A DAY

Burger and fries.

Picture: Nathan Motoyama / EyeEm

Raving all day and raving all night takes up a lot of energy, so make sure you eat properly. Ensure you have a substantial dinner with carbs in it before heading out for an all-nighter to keep on 'til dawn. Also, take some cereal bars - they're a cheap breakfast, no milk required… And it saves you paying a tenner for a bacon roll.

TAKE A BIGGER TENT THAN YOU'LL NEED

Feet poking out of a festival tent.

Picture: Niccol Pontigia /EyeEm/Getty

Always add a "person" to the size tent you're taking to your festival. If there's two of you, get a three-man tent. Why? Because you need to have all your rucksacks, clothes, food and other junk in there with you, which takes up a person's worth of space.

BE A CLEVER CAMPER

Glastonbury - tents in the water, 2005.

Picture: MJ Kim/Getty Images

Try and get on site as early as you can. The earlier you are, the better spot you can bag. Don't fret if you arrive later, though - just be prepared to walk further to your campsite. Don't camp at the bottom of a hill (you can imagine what happens when the rain starts to fall), and be careful you don't camp too near the Gabba Revival All-Nighter Tent if you want to get some kip. Make sure you don't pitch downwind of the toilets BUT don't camp too far away from the lavs in case of an emergency.

KNOW YOUR PLACE

Glastonbury tents, 2008.

Picture: Matt Cardy/Getty Images

Remember where you've pitched your tent and its relation to the festival site. Find a decent landmark: a path, a toilet block, a group of gurning lunatics, anything that will be familiar to you when you're staggering back to your crib at a million o'clock in the morning. Putting a England/Scotland/Wales flag on top of your tent won't cut it - EVERYONE does that.

DON'T PACK A PILLOW, PACK A PILLOW CASE!

Pillow cases.

Picture: HighImpactPhotography/Getty

You'll struggle to fit a pillow into your rucksack, so why bother? You'll have plenty of clothes with you anyway, so simply stuff the empty pillow case with a nice jumper and Bob's your uncle.

WRAP SOME GAFFER TAPE AROUND A WATER BOTTLE

Gaffer tape.

Picture: MirageC/Getty

You don't need to pack a whole roll of the stuff, just enough in case of an unexpected rip/tear/deflation/tent pole snap. A space-saver and a very possible life-saver in an emergency.

STASH SOME DRY CLOTHES IF YOU CAN

New jeans.

Picture: Jitalia17/Getty

If you drive and you're taking a car to the festival, leave a spare pair of jeans and socks in the car, so when you leave after four days of torrential downpour, you'll be warm and snug.

GET MINIMAL WITH YOUR TOILETRIES

Too many toiletries.

Picture: Tetra Images/Getty

Anything you pack makes for extra weight to be carried or dragged from your house to the festival site, so travelling smartly can be a boon. Don't take a whole bar of soap, shave off some slivers with a kitchen grater for a "one-wash" wonder. Don't take a whole tube of toothpaste, squeeze some blobs onto a plate, let them dry over a couple of days and chuck them into a waterproof bag.

PACK A MALLET

Mallet and tent pegs.

Picture: Mint Images/Getty

The amount of times we've turned up at a festival and had to try and push our tent pegs into the hard, unforgiving stony ground. You can get a rubber mallet for a few quid at any camping store.

SEALABLE SANDWICH BAGS WILL SAVE YOUR STUFF

Sandwich bags.

Picture: DustyPixel/Getty

Put your phone, money and other valuables inside and seal! A life-saver if the festival you're at turns into a monsoon on day one.

INVEST IN WATER AND BANANAS

Water and bananas.

Picture: Yuji Sakai/Getty Images

One morning you will be worse the wear from alcohol, so you need a cure. You'll need to re-hydrate (hence the water) and potassium is vital for proper nerve function (hence the bananas). Plus, those bananas will help with the low blood sugar you'll experience from too much alcohol.

KEEP A LAYER OF CLOTHING IN RESERVE

Hoodie.

Picture: Pbombaert/Getty Images

No matter how cold you are, there's always potential for it to get colder. An extra hoodie or jumper might bring you relief as you stand and watch the Rinky Dink Bike at 4am in the morning.

PLAN YOUR POCKETS

Pockets.

Picture: Marco Quintarelli / EyeEm / Getty Images

Keep your essential items in the same pockets, so despite how drunk you get you'll always remember where your phone or wallet is. And don't put your phone in your top or back pocket - because you will inevitably lean over and drop it straight into the long drop.

WET WIPES ARE YOUR BATHROOM NOW

Wet wipes.

Picture: Steve Wisbauer / Getty Images

Forget trying to have a proper wash or queuing for a shower, stock up on LOTS of wet wipes and freshen yourself up that way.

LEAVE EARLY… OR LEAVE LATE

Glastonbury - fans leave the 2017 festival.

Picture: Matt Cardy/Getty Images

Make sure you plan your getaway - either pack up and get off the site in the early hours before the masses wake up, or take your time on the Monday and wait for the crowds to thin out. If you go between 7am and 9am, you'll inevitably get stuck in a bottleneck trying to get through the exit gates.

KNOW YOUR TOILETS

Festival toilets at Glastonbury.

Picture: Matt Cardy/Getty Images

The festival toilet is a tricky beast to negotiate, but do not fear it. The long drops may be your idea of hell, but being out in the fresh air, with several feet between you and the pit of human filth is often preferable to being enclosed in a hot and steaming portable toilet. Avoid the toilets near the main stage areas and thoroughfares - they'll be battered from thousands of people using them and will be RANK. A good tip is to spot which loos have just been cleaned and use them before they go "on the turn".

MIND THOSE STINGY HANDS

Putting in contact lenses.

Picture: Guido Mieth / Getty Images

Contact lens wearer? Always wash your hands before putting your lenses in, because it's more than likely your hands will be covered in anti-bacterial handwash and it'll sting like hell. Dip your fingers in the saline solution you've just taken your lenses out of for pain-free eyeballs.

MAKE YOUR OWN SUPER LANTERN

Light up your camping space by strapping a regular head lamp to a large milk or water bottle - hey presto, glowing goodness.

DON'T PUSH

Festival crowd, 2004.

Picture: Matt Cardy/Getty Images

Use the pincer movement to get nearer to the front of the crowd - go in via the side, it saves you having to barge past 100,000 people, most of whom are probably taller than you. And don't bother pushing your way to the very front barrier - the sound quality is worse, you'll have less space to do your thing and will find it's almost impossible to leave.

THIS ONE SIMPLE RULE WILL SAVE YOU ANY GRIEF:

Festival rubbish.

Picture: Leon Neal/AFP/Getty Images

Don't take anything you're not prepare to lose or damage in some way.