Why Budapest's Sziget Festival Could Be The New Glastonbury
6 July 2018, 19:23
With Somerset's finest taking a break in 2018, could it be Hungary's love revolution that fills the hole?
As Glastonbury enjoys a fallow year, and the Eavis' take a well-deserved rest, nearly 200k of us are left with a huge gap in our summers. And instead of investing that extra cash in ISAs or saving it for rainy days, we're thinking, "well, what should I spend it on instead?"
European festivals have been exploding over the last few years. With cheaper ticket prices and line-ups to match those back home, festival goers are switching the mud for the sun.
One such festival is Sziget, and it's clear to see why. Over seven days (that's right, seven days) you can have your mind blown on an island in Budapest for a fraction of the cost.
Watch the 2017 Sziget Aftermovie above, and find out some of the best things about the festival here:
The Line Up
Sziget boasts one of 2018's biggest line ups. This year sees Arctic Monkeys, Liam Gallagher, Mumford & Sons, The Kooks, Gorillaz and Blossoms all performing across the seven-day event.
But, like Glastonbury, Sziget is proud to be eclectic, with likes of Kendrick Lamar, Dua Lipa, Kygo, and Shawn Mendez also performing massive slots. Beyond that there's an array of performers, ranging from funk, to jazz, to world, to metal. So if you're bored of one thing, you simply stroll to something completely different, just like at Glasto (except with less mud).
The Heritage
The community of Sziget was founded 25 years ago based on the idea of creating a temporary "dream nation" on the island, celebrating and sharing the best from cultures and people across the globe. They call themselves Szitizens and they celebrate diversity, respect human dignity and look out for each other – you know, all the good stuff. This ethos creates an atmosphere of infinite positivity, and that's exactly what you want as your sipping a beer in the sun.
The Setting
Sziget takes place on Óbudai-sziget, a leafy 108-hectare island on the Danube river, which runs through Budapest. It's covered in beautiful trees, has a beach, and its bang in the middle of one of Europe's best (and most affordable) cities. It's slightly better than lugging your camping equipment through miles of muddy fields.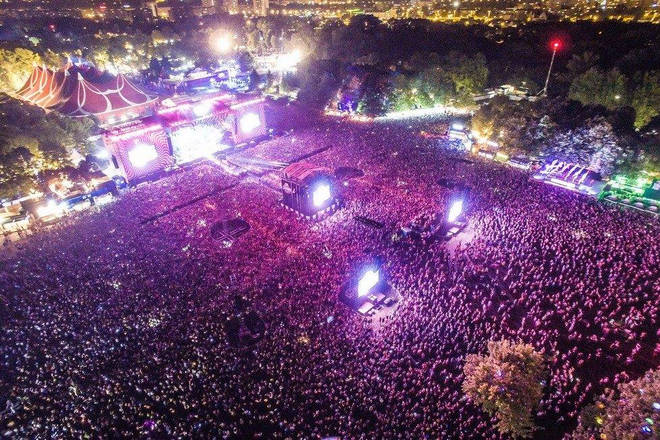 The Other Stuff
Sure, it's great seeing massive artists, but what makes a festival really cut through is the other stuff. The art, the installations, the bizarre six foot puppets that parade the grounds at 2AM. Art Of Freedom (Sziget's art incentive) encourages festival goers to submit ambitious and creative installations for the festival. The result? The island is covered with giant matchstick benches, treehouses, neon sheep, and just about anything else you can imagine. This kind of attention to detail is why we love Glastonbury, and it's why you'll love Sziget.