You're Most Likely To Pull At These UK Festivals...
7 June 2018, 16:13 | Updated: 7 June 2018, 16:34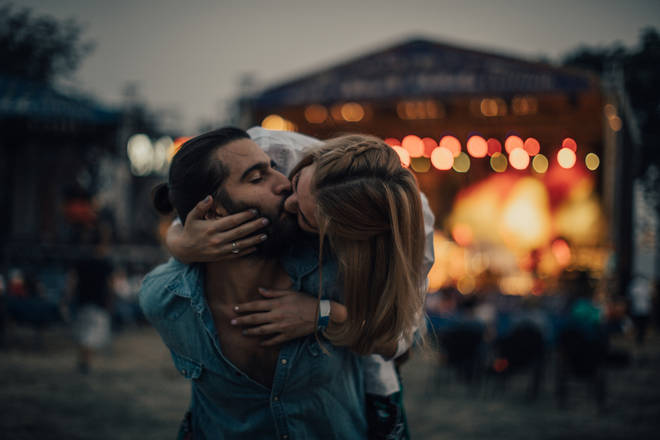 A study has conducted a nationwide survey of 500 festival-goers to determine which music events are the most sexually-charged.
Wireless has been ranked as the most randy UK festival in a new study, with Bestival ranking closely behind.
Research, which was undertaken by SpaSeekers, polled 500 festival-goers around the nation to rank the most popular music events in terms of filthiness, amount of sleep and sexual activity.
The festivals, which take place in London and Dorset respectively came in at first and second place, with a total score of 58 of 58.3% and 58% respectively.
Scores were based on the combined percentage of pollers who were asked two questions; If they had kissed someone at a festival who wasn't their partner, and if they had sex with someone who wasn't their partner.
62% of the surveys' participants who went to Bestival admitted to kissing someone who wasn't their other half, while 64% of participants who went to Wireless said the same.
Despite Wireless only being a day festival, 53% of participants who attended the event revealed they'd had sex with someone who wasn't their partner, while 54% of participants said the same of Bestival.
Also in the rankings were Parklife, Latitude and Creamfields, who came in at third, fourth and fifth place respectively.
Plus, when it came to sharing a cheeky snog, Manchester's Parklife Festival, which takes place at Heaton Park from 9-10 June this weekend, reigned supreme with festival-goers kissing an average of 2.17 people over the weekend.
Surprisingly enough, right at the bottom of the randy rankings were Download, the now obsolete V Festival and Reading and Leeds, who came in at eighth, ninth and tenth place.
Unbelievably, Glastonbury Festival was nowhere to be seen in the chart. We guess they were all too busy in the queue for Shangri-La...
Top 10 UK festivals for pulling - ranking and scores:
1. Wireless Festival - 58/100 - 58.3%
2. Bestival - 58/100 - 58%
3. Parklife - 53/100 - 52.6%
4. Latitude - 51/100 - 51.4%
5. Creamfields - 40/100 - 40%
6. BBC Big Weekend - 35/100 - 34.8%
7. Isle of Wight Festival - 33/100 - 33.3%
8. Download Festival - 30/100 - 30.2%
9. V Festival (now obsolete) - 29/100 - 28.9%
10. Reading and Leeds Festival - 25/100 - 25%
Elsewhere in the study, Bestival came out top as the most party-hard festival with punters getting the least amount of sleep, while Download - which also takes place this weekend - was ranked highest in the filthy stakes, but surprisingly saw its punters get the most sleep.
Jason Goldberg, Director of SpaSeekers said: "Attending a festival weekend is a rite of passage every Brit goes through, and while people will be having the time of their lives watching their favourite musicians our research showed they are prepared to get a little dirty and sacrifice some sleep.
"We were surprised to discover that Download Festival is where Brits are get the most sleep, while festival goers at Bestival will be feeling a bit sleep deprived getting just over three hours of sleep a night!  
"Whether Brits are going to enjoy rock at Download or dance music at Creamfields, what really matters is that Brits enjoy the amazing festival atmosphere and have a great weekend."