The Best New Music, Artists And Bands For 2017
21 August 2017, 06:00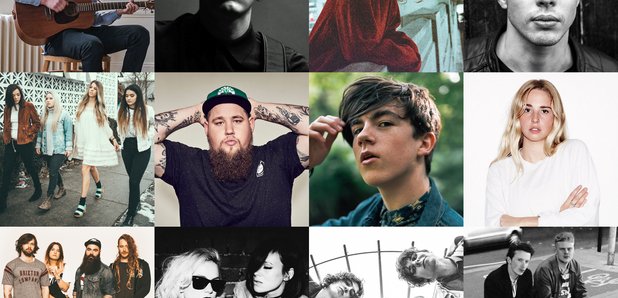 Which brand new acts should you be downloading, streaming or buying tickets to see live? Here's Radio X's pick of the crop.
1. THE ACES
"Four girls about to rule the world," claim this Utah pop-rock outfit, which consists of Cristal Ramirez (vocals, guitar), Katie Henderson (guitar, vocals), McKenna Petty (bass) and Alisa Ramirez (drums). Alisa directed the video for their debut single Stuck, released in May 2016, and its summery 70s vibe puts us in mind of a female Two Door Cinema Club. The foursome have recently signed to Red Bull Records and released their EP I Don't Like Being Honest in June of 2017. More info
2. THE AMAZONS
This Reading quartet - fronted by the powerful vocals of Matt Thomson - have been perfecting their own brand of dramatic, driving indie rock for the past couple of years. They achieved something of a buzz with their first upload to Soundcloud, Something In The Water back in 2014. Their self-titled debut album was released in May 2017 and has spawned the excellent singles Junk Food Forever and Black Magic. More info
3. LOUIS BERRY
"I want to be the biggest male artist on the planet," says this soulful singer-songwriter from Kirkby in Merseyside, who has already been compared to Johnny Cash and Alex Turner. His story is colourful: his father was a heroin addict and he signed a publishing deal after just one live show. His debut EP Rebel attracted the attention of tastemakers and he named 2015's One To Watch at Liverpool's prestigious GIT Awards. More info
4. BLACK HONEY
Black Honey make whirling, epic guitar music that has brought them to the attention of Ash and Slaves, who have both invited the Brighton-based band on tour in recent months. Following the release of their Headspin EP in August, latest single, Hello Today, features charismatic singer Izzy B Phillips on a crime spree in the US desert. A heavy summer of touring has seen sets at TRNSMT and Glastonbury festival, plus a support slot on Royal Blood's UK tour. More info
5. CABBAGE
Manchester post-punk quintet who released the brilliantly-titled Terrorist Synthesiser EP, on James Skelly of The Coral's Skeleton Key label. The release follows their previous outings: Necroflat In The Palace and Uber Capitalist Death Trade, which were compiled as a mini-album in January 2017 called Young Dumb And Full Of... Queasy, weird and addictive, Cabbage's unique sound recalls early Happy Mondays or the more riotous side of Super Furry Animals, with a touch of The Fall thrown in. More info
6. CLEAN CUT KID
With a touch of Vampire Weekend and The Magic Numbers in their sound, this Liverpool-based quartet have a sharp, clean, joyous brand of guitar pop. Mike Halls (vocals and guitar), Evelyn Halls (keyboards, vocals), Saul Goodman (bass) and Ross Higginson (drums) have wound up a year of extensive gigging with a support slot on Courteeners' UK tour. Their latest single, Vitamin C, was released in June 2017. More info
7. GEORGE COSBY
The dark voice of George Cosby is already a firm favourite of our very own Maz Tappuni on his Communion show on Radio X. Hailing from South London, George cites influences as diverse as Jeff Buckley, The National, Eddie Vedder and Bon Iver, and released his debut EP, Human Touch, in November 2015. 2016 has seen George play festivals such as Live At Leeds and Latitude, and he released a new single, A Savage Kiss in October. More info
8. BARNS COURTNEY
Born in Ipswich in 1990, Barns moved to Seattle when he was four years old and returned to England when he was 15. He's had an illustrious career in the indie bands SleeperCell and Dive Bella Dive, but went solo in 2015 by releasing his debut Glitter And Gold and hooking up with Libertines man Carl Barat. His bluesy, strident style has attracted many admirers and he's supported The Libertines, Ed Sheeran and Tom Odell on tour over the past eighteen months. More info
9. THE JAPANESE HOUSE
It's not a house, it's Buckinghamshire-born Amber Bain, who has been recently touring with pals and label-mates The 1975. She chose the mysterious name to stave off any preconceptions: her music is lush electronica, with an emotional heart behind the synthetics. Having written her first song when she was twelve, Amber counts Beach House, Cocteau Twins and Beach Boys as influences. The latest single is Saw You In A Dream, released at the end of June 2017. More info
10. JUNIOR EMPIRE
Driving, urgent indie pop from the artists formerly known as The Mispers. Now the same line-up are operating under a new name, with some new songs: West Coast got some playlist love from Radio X back in the summer and relives the London band's time in LA, while their self-titled EP was released at the end of June, featuring the lead track Decide. More info
11. LAUREL
Born in Southampton 22 years ago, now living and making music in London, singer-songwriter Laurel Arnell-Cullen released her first single, Fire Breather, in January 2014 and has since signed to Counter Records via the influential label Ninja Tune. Recorded and mixed in her East London bedroom studio, Laurel's latest EP is called Park. Fragile vocals with delicate melodies, lovely stuff. More info
12. LOCK
Classically-trained sisters Edie and Gita Langley have toured as musicians with the likes of The Libertines, Beyonce, Mark Ronson and Jay Z, but now they're making their own, darkly romantic music under the name Lock. They are putting the finishing touches to their debut album, with Gita's husband Ed Harcourt on production duties, and released a teaser in the shape of the EP Everlasting Road back in September. More info.
13. MAGIC GANG
Angus, Jack, Kris and Paeris hail from Brighton's busy music scene and have been drip-feeding tracks out across the web for a couple of years now. They've been gigging hard with the likes of Swim Deep, Wolf Alice and Sundara Karma and their sound harks back to classic 60s rock, with a spoonful of Weezer's power pop. More info
14. DECLAN MCKENNA
17-year-old Declan quit studying for his A-Levels to work on his debut album and win Glastonbury's Emerging Talent Competition. His song Brazil was a about the FIFA corruption scandal and brought Declan to the attention of Sky News, while other lyrical topics include the Paris terrorist attacks, trans culture, teenage suicide and even "a manipulative person who's an absolute dickhead". His latest single Isombard talks about police brutality. "A lot of my songs are about big world problems because I've not got much bad personal stuff to write about," he says. Declan's debut album, What Do You Think About The Car, is released in July 2017. More info
15. PALE WAVES
Ethereal dreampop from this Manchester quartet, who released their debut single Heavenly in July 2015. Heather, Ciara, Hugo and Charlie have spent much of 2016 playing live, including a tour with Inheaven. Their debut single There's A Honey was produced by Matt Healy and George Daniel of The 1975. More info
16. PARIS YOUTH FOUNDATION
A box fresh Liverpudlian outfit (no pictures yet!), who released their debut single Losing Your Love in December. Chiming guitars and a yearning vocal from singer Kevin Potter make this five-piece one to keep a look out for. They tour with Inheaven in the autumn of 2017. More info
17. PICTURE THIS
Irish pop-rock duo Ryan Hennessy (vocals) and Jimmy Rainsford (drums) made such a splash with their debut track Take My Hand that they sold out their debut gig at Dublin's Academy in April 2016. The pair have a track record of playing with Irish bands, so it wasn't TOO daunting, but they've continued to release songs via their Facebook page and issued their debut EP in August. They released the single Everything I Need in July 2017. More info
18. RAG 'N' BONE MAN
You'll already know about Rory Graham, thanks to his incredible new single Human, which is getting rinsed on Radio X. His amazing blues-drenched voice has also bagged him the BRIT Critics' Choice Award. Hailing from East Sussex, years of performing in hip hop collectives hid Rory's "other" career as a soulful singer and he came to our attention in 2014 with the Wolves EP, which featured a guest appearance by Kate Tempest. He only started to play live the following year, but it was Human that broke through in July 2016, making No 1 in Germany, Austria, Belgium and Switzerland. His keenly-awaited debut album, also called Human, wasreleased on 10 February, with more shows to follow. Essential listening for 2017. More info
19. THE RHYTHM METHOD
A big favourite of Radio X's John Kennedy, The Rhythm Method are the classic synth pop duo: Joey Bradbury writes the words and sings, Rowan Martin writes the tunes, plays keyboards and stands at the back. Their influences are the Bugsy Malone soundtrack, Rod Stewart, Barbra Streisand and the Dinnerladies theme tune. Cheesy backing tracks with dry, wry lyrics, as if Mike Skinner fronted the Pet Shop Boys. More info
20. TEN TONNES
Ethan Barnett is a 19 year old singer-songwriter, with a bluesy take on indie guitar pop that reminds us of the late, lamented Augustines. Oh, and he's George Ezra's younger brother, but don't let comparisons cloud your appreciation of his excellent debut EP Lucy. The title track is a heart-warming flag-waver with a killer chorus. A new EP, Born To Lose, was released in July 2017. More info