Arctic Monkeys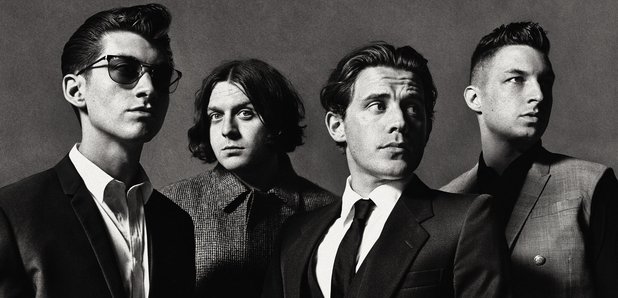 "Don't believe the hype" were the words that Alex Turner, Arctic Monkeys lead singer, mumbled into his microphone at the start of the I Bet You Look Good On The Dancefloor video. His plea wasn't unjustified because the band were stars before they'd even been signed.
The Sheffield four-piece are a band of the MySpace generation. Their tunes fused punk, funk and ska and, accompanied by Turner's observatory eye and acerbic wit, spread like wildfire throughout the worldwide web. By the time their debut album, Whatever People Say I Am, That's What I'm Not, was released in January 2006, it became the fastest selling debut album in UK chart history.
The album was loaded with a plethora of great tracks that were as popular on the radio and they were in the clubs. Songs like When The Sun Goes Down, The View From The Afternoon, Mardy Bum, and Fake Tales Of San Francisco went on to become the soundtrack to the Noughties.
From there, the only way was up. As the albums progressed through Favourite Worst Nightmare (2007), Humbug (2009) and Suck It And See (2011) the band's sound matured, thanks in part to production duties from Josh Homme of Queens Of The Stone Age.
Turner substituted the rattle of indie guitars and flippant, colloquial lyrics for full rock riffs and a deep, and often dark, subject matter. 2013's AM continued the grungier, rougher trend across tracks like One For The Road and Arabella.
Over the span of the band's life Turner has managed to keep the singles coming, from the jaunty Fluorescent Adolescent to the distortion driven R U Mine. And while hype can often be the very thing to destroy a band, for Arctic Monkeys it was the thing that defined them.
Tuesday, 9th May 2017
Drummer Matt Helders has posted a very revealing photo on social media…
Wednesday, 1st March 2017
Celebrate St David's Day with the Welsh legend's cover of I Bet You Look Good On The Dancefloor.
Wednesday, 22nd February 2017
Remember the Arctic Monkeys frontman's infamous speech at the 2014 BRIT Awards?
Friday, 17th February 2017
See The Last Shadow Puppets bandmates and the Video Games singer in action.
Thursday, 16th February 2017
The documentarian revealed he's a massive Arctic Monkeys fan.
Friday, 6th January 2017
Alex 'n' Miles beat Bowie's Blackstar to come out tops in the LP artwork charts of last year.
Friday, 23rd December 2016
The members of the band have been seen in their hometown for the first time in AGES… Are they making the follow-up to AM?
Monday, 19th December 2016
Watch the Arctic Monkeys man get festive in the middle of Fluorescent Adolescent…
Monday, 21st November 2016
Mat Whitecross has revealed other artists he'd like to work with.
Monday, 14th November 2016
Coming from the forthcoming covers E.P, the supergroup have taken on the French classic.
Friday, 11th November 2016
Alex Turner and Miles Kane covered Leonard Cohen in a new track that's featuring on their forthcoming E.P.
Monday, 17th October 2016
The six track E.P will include covers by Leonard Cohen and more.
Wednesday, 7th September 2016
The era defining debut has been reimagined in the best way possible!
Tuesday, 12th July 2016
The four-piece have teamed up with Herd of Sheffield to raise money for The Children's Hospital in their hometown.
Sunday, 26th June 2016
…Well, there's no rush, anyway. He joined Miles Kane at Glastonbury this weekend and the pair reflected on the future of The Last Shadow Puppets and their own projects.
Monday, 13th June 2016
Compare the minimalist artworks here.
Monday, 6th June 2016
The duo treated fans to a stripped-back version of the track at Greece's Rockwave festival.
Tuesday, 12th April 2016
Turner speaks about his friendship with his Last Shadow Puppets collaborator.
Wednesday, 23rd March 2016
"Over there there's broken bones / There's only music, so that there's new ringtones."

"Do I wanna know… if this feeling flows both ways?" muses a cautious Alex Turner in a complex tale of relationships.
Tuesday, 9th February 2016
It's no secret that Budapest's Sziget Festival is one of the best in the world. But now they've got a huge line up to back up the claims.
Friday, 29th January 2016
The duo will play Manchester's Castlefield Bowl and London's Alexandra Palace.
Thursday, 28th January 2016
The Scouse rocker isn't backwards about coming forwards.
Wednesday, 27th January 2016
Alex Turner and Miles Kane have revealed their debut album was inspired by the late British icon.
Tuesday, 26th January 2016
Alex Turner and Miles Kane stopped by Radio X HQ to chat to Sunta Templeton and confirm they'll be touring their album.
Saturday, 23rd January 2016
Whatever People Say I Am, That's What I'm Not is ten years old today. Good grief. To celebrate, here at Radio X we've banged our heads together to rate the album's tunes, track-by-track. Agree? Disagree? Let us know.
Thursday, 21st January 2016
It's called Everything You've Come To Expect and hopefully it'll be everything we've come to expect from Alex Turner and Miles Kane.
Monday, 11th January 2016
Alex Turner and Miles Kane posted their surprise video early on Monday morning.
Tuesday, 29th December 2015
Their latest video sees the duo jamming in the studio, while Miles Kane does his best Ric Flair impression.
Monday, 2nd November 2015
See more Halloween outfits from the stars.
Tuesday, 7th July 2015
The Official Chart Company has announced the 10 most popular albums and singles on vinyl so far this year and both lists are dominated by Noel Gallagher, with records from Blur, David Bowie and Arctic Monkeys featuring too.
Tuesday, 24th March 2015
Mini Mansions have debuted their new video, featuring an ice cool cameo from Alex Turner and plenty of scantily-clad women.
Tuesday, 20th January 2015
The Arctic Monkeys frontman hopped on stage at The Lexington last night with the US band.
Thursday, 15th January 2015
The European Festival Awards 2015 have awarded the Arctics two prizes and named Glastonbury as the Best Line-Up.
Monday, 5th January 2015
The Official Chart Company has confirmed the bestselling albums of 2014 included George Ezra, Paolo Nutini and Arctic Monkeys.
Monday, 29th December 2014
Alex Turner and the lads have celebrated the end of a South America tour with a behind-the-scenes video that features sun, songs...and tennis.
Wednesday, 3rd September 2014
Dan Le Sac & Scroobius Pip also took home an award!
Wednesday, 13th August 2014
The Association of Independent Music announce their annual round up of the very best in indie.
Monday, 30th June 2014
But there are still some left for Leeds Festival!
Tuesday, 17th June 2014
YouTube could drop videos from indie record labels including XL and Domino, reportedly in a row over a new premium paid music service.

Another great single from the peerless AM album.
Thursday, 29th May 2014
Watch an exclusive acoustic version of the band's recent single, recorded at Radio X.
Friday, 23rd May 2014
The Arctic Monkeys frontman has revealed he doesn't sleep easy before the bigger gigs.
Wednesday, 21st May 2014
The Arctic Monkeys frontman thinks the US rockers aren't the right booking for the festival.
Thursday, 3rd April 2014
The Arctic Monkeys singer claims that he needs to be "ridiculous" to cope with the rock 'n' roll life.
Monday, 3rd March 2014
Partly inspired by Brian Cox's TV series The Wonders Of The Universe, this track has turned out to be a wonder in itself.
Thursday, 27th February 2014
Lily Allen, HAIM and Paul McCartney were also winners at last night's event.
Thursday, 20th February 2014
Alex Turner and Matt Helders tell Radio X what these award ceremonies really mean to them.
Thursday, 6th February 2014
Radio X was out in force at the inaugural event from the music magazine…
Monday, 3rd February 2014
Plus, Courteeners, The 1975 and more to play the 2014 August double-header.
Love Arctic Monkeys? Click the like button to add them to Facebook
Now Playing
4pm - 7pm
Text 83936