The Killers
The Killers Biography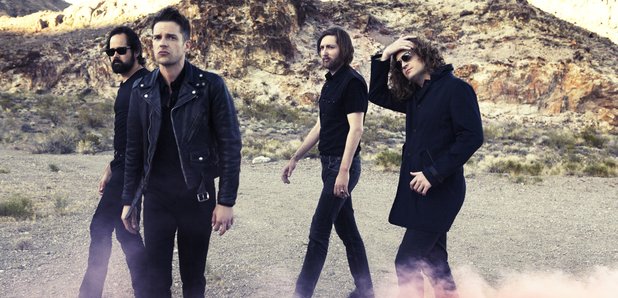 Vegas rockers The Killers formed in 2001, going on to become one of the biggest bands of the noughties.
Brandon Flowers on vocals, Dave Keuning on guitar, Mark Stoermer on bass and Ronnie Vannucci Jr. on drums produced such huge hits as 'Mr. Brightside' and 'Somebody Told Me'. 2013 will see the release of a greatest hits compilation 'Direct Hits', featuring two new tracks 'Shot At The Night' and 'Just Another Girl'.
Wednesday, 17th May 2017
Producer David Fridmann has given fans a clue about the status of the follow-up to 2012's Battleborn.
Tuesday, 16th May 2017
Guitarist Nick Valensi has recalled conversations the Last Nite rockers had about the Las Vegas outfit.
Tuesday, 9th May 2017
The likes of Mystery Jets and Cold War Kids will now play with the huge line-up of acts for the sold-out show.
Tuesday, 4th April 2017
The evidence suggests it's not going to sound anything like we expect.
Monday, 3rd April 2017
A YouTuber has sped up The Killers' famous track whenever a pronoun is used.
Wednesday, 8th March 2017
Brandon Flowers and co. will be topping the bill at the Serbian festival on 5 July this year.
Friday, 3rd February 2017
Stop. Everything.
Sunday, 29th January 2017
Celebrate the return of the indie bands with this a cover from the Las Vegas four-piece.
Friday, 27th January 2017
The Las Vegas outfit have released a promotional video ahead of their headline slot at Hyde Park's British Summer Time.
Monday, 23rd January 2017
The Las Vegas outfit will make their UK festival exclusive at the London event.
Friday, 13th January 2017
Panda Express have pledged to give food to underprivileged kids after a joke about their fortune cookie.
Thursday, 15th December 2016
The extra special version of their debut album seems to have sold-out before its release date next year.
Friday, 18th November 2016
See the details of their Don't Waste Your Wishes album here.
Wednesday, 14th September 2016
The band paid tribute to the Las Vegas four-piece during their T-Mobile Arena gig earlier this month.
Monday, 1st August 2016
The band just gave their fans a huge reason to visit their hometown.
Monday, 13th June 2016
The Killers frontman revealed The Strokes' Is This It was a "driving force" for the Las Vegas band.
Saturday, 4th June 2016
Brandon Flowers played a brief snatch of an unfamiliar track at a Canadian show…
Wednesday, 25th May 2016
The Las Vegas band might look slightly different on stage from now on.
Tuesday, 29th March 2016
See the viral singalong that took place at a wake in Ireland last week.
Tuesday, 9th February 2016
The legendary singer-songwriter is heading off to Vegas to work with Brandon Flowers and co.
Monday, 27th July 2015
The Killers frontman paid tribute to the duo with a faithful cover of a classic hit - and we've got the video footage of it.
Monday, 18th May 2015
The Killers man tells Radio X that "getting everyone on the same page was difficult".
Thursday, 30th April 2015
The Killers' frontman has spoken out about the current state of the band.
Tuesday, 31st March 2015
The first track from Brandon Flowers' second solo album The Desired Effect now has a shiny new video.
Wednesday, 25th March 2015
The Killers frontman is about to launch his second solo album The Desired Effect and spoke to Radio X's Danielle Perry about trying new songwriting methods and all-star collaborators.
Monday, 23rd March 2015
The Killers' frontman is heading to UK shores for a string of solo dates. And it's going to be good.
Wednesday, 25th February 2015
The Killers' frontman has announced plans for a new solo record.
Tuesday, 2nd December 2014
Brandon Flowers and the boys join forces with US chat show host Jimmy Kimmel to unveil Christmas single.
Wednesday, 23rd April 2014
The US band have been announced as headlining with Courteeners and Miles Kane also on the bill.
Tuesday, 22nd April 2014
Ceelo Green, John Martin and To Kill A King are also newly confirmed for this year's bill.
Tuesday, 4th March 2014
Elbow, Bastille and Manic Street Preachers have also been confirmed for the two site event.
Wednesday, 4th December 2013
The Killers have unveiled the video to festive offering Christmas in LA.
Friday, 8th November 2013
Brandon Flowers has told Radio X the rumours are true, their eighth consecutive Christmas song will be a collaboration.
Thursday, 7th November 2013
The Killers have tanked the UK audience for giving them confidence as the band celebrate ten years together.
Friday, 25th October 2013
The band - who sold out Wembley in the Summer - will play a one off show at Hammersmith Apollo next month...
Wednesday, 9th October 2013
The Killers frontman has said he intends to work on the follow up to Flamingo...
Tuesday, 17th September 2013
Direct Hits also features two brand new tracks - Brandon Flowers has told Radio X he is very excited for people to hear them...
Monday, 5th August 2013
The US band were joined by the New Order frontman for a song at Lollapalooza - Watch their whole set...
Monday, 24th June 2013
Band members are to spend time with their families before working on next album...
Wednesday, 19th June 2013
Drummer Ronnie Vannucci has revealed they are working with the French musician.
Monday, 22nd April 2013
Liam Gallagher's band and The Smiths icon have been added to the bill for the Spanish festival.
Tuesday, 16th April 2013
The Killers have announced the support acts as for their Wembley Stadium show this summer.
Tuesday, 2nd April 2013
New Order, Alt-J and Foals are also on the bill for the American festival this summer.
Thursday, 10th January 2013
Alt-J, Jake Bugg, Ben Howard, Mumford And Sons, The Killers and Muse are all lined up for BRIT Awards this year.
Friday, 21st December 2012
Radio X exclusively revealed they are first headliners confirmed for next year's Benicassim Festival.
Monday, 17th December 2012
The band have been added to the bill to the 2013 event.
Thursday, 15th November 2012
The Killers had to call off two shows this week - but have promised to return next year.
Tuesday, 13th November 2012
Brandon Flowers and his merry men will headline Wembley Stadium next summer - their biggest ever show.
Monday, 24th September 2012
The Killers have gone straight in at number one on this week's album chart with Battle Born.
Tuesday, 11th September 2012
Brandon Flowers claims that he doesn't miss the struggle of the early days
Love The Killers? Click the like button to add them to Facebook
Now Playing
7pm - 10pm
Text 83936