Liam Gallagher & Stars React As England Crash Out Of World Cup 2018
11 July 2018, 22:03 | Updated: 12 July 2018, 11:56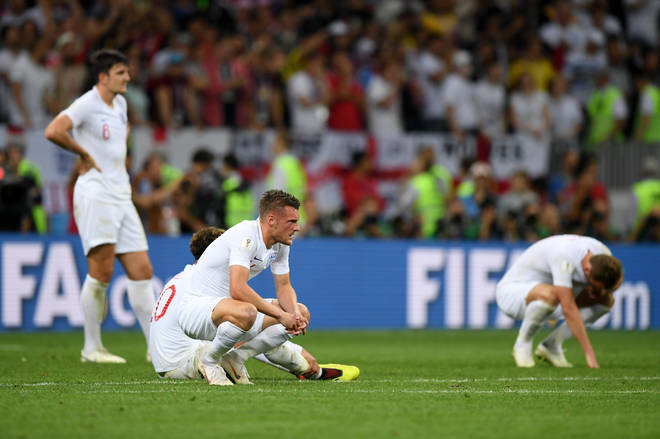 The dream ends as Gareth Southgate's team lose 2-1 to Croatia. Here's what they're saying about it.
England's dream of World Cup glory ended in Moscow tonight (11 July) when they lost 2-1 to Croatia in the semi-final.
The team, led by manager Gareth Southgate and captain Harry Kane, saw their first semi-final in the international tournament since 1990.
However, despite a goal by Kieran Trippier in the first five minutes of the match, the Croatian team equalised then scored again in extra time.
Already, the commiserations have started to flood in, led by star James Corden, who tweeted: "One day, It will come home. And it will feel incredible."
Former Oasis rocker Liam Gallagher shared his pride at the England squad and their "proper" manager Gareth Southgate:
David Baddiel, whose track Three Lions has caught the imagination of the nation again, tweeted his thoughts:
Prince William shared his thoughts via the Kensington Palace account, saying: "I couldn't be more proud of this team and you should hold your heads high. You've had an incredible World Cup."
Another Prince among men, Mr Danny Dyer, spoke for the people. Surely a Knighthood must be on the way?
Gary Linker showed some sympathy, having been part of the squad that reached the World Cup semi finals in 1990. He said: "Utterly choked, but this young side gave absolutely everything. It's a huge step forward and they'll only get better in the future."
Lineker also tweeted footage of the England fans singing the classic Oasis track Don't Look Back In Anger in the stadium after the match:
Courteeners' Liam Fray also followed up the fans' feelings:
Up and coming singer and all-round legend Tom Grennan topped his Guinness World Record bid for the most live showd performed within 12 hours by watching the England Vs Croatia game:
The Wombats tried to look on the bright side:
And Radio X's very own Danny Wallace had this to say:
Singer-songwriter Lewis Capaldi joked:
Meanwhile, Trainspotting author Irvine Welsh added:
Captain Harry Kane summed up his team's feelings:
The England team thanked the fans:
The funniest spot from the night had to come from this tweeter…