VIDEOS: Are these the best onstage duets, collabs & appearances?
29 July 2018, 09:00 | Updated: 15 April 2019, 18:04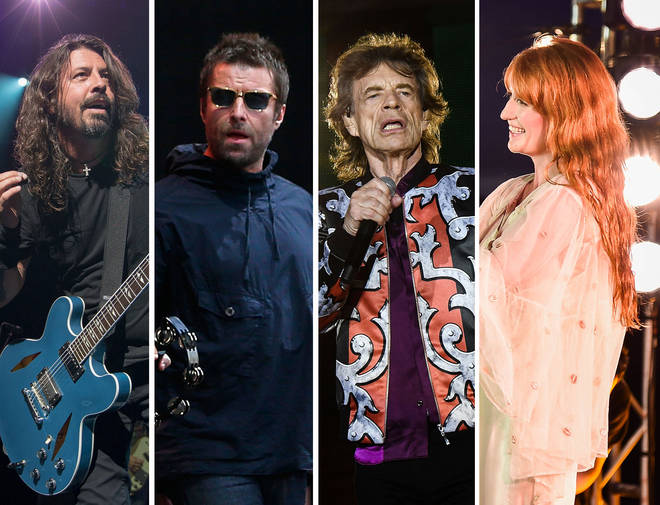 This weekend saw Weezer joined by Tears For Fears at the first weekend of Coachella 2019. Look back at some memorable on-stage collabs here.
Special guests, surprise appearances, onstage duets and collabs. Whatever you refer to them as, a band being joined by a fellow artist on stage is just one of many things that can make a live show extra special.
Radio X looks back on some of the best live appearances we've seen in the last few years, featuring everyone from Florence + The Machine and The Rolling Stones to Foo Fighters and Guns N' Roses.
Weezer and Tears For Fears

Weezer brought out Tears For Fears at Coachella 2019.

The California nerd rockers covered the British band's classic 1985 hit Everybody Wants To Rule The World on their recent Turquoise album.

So it made sense that when they performed a rendition of the hit at the famous California festival, they invited the 80s legends to join them.

Florence Welch and The Rolling Stones at London Stadium

Florence + The Machine played a blinding set when they supported The Rolling Stones at the London leg of their No Filter tour this May.

As an extra treat, Florence Welch returned to the stage to treat fans to a duet of Wild Horses with frontman Mick Jagger.

Miles Kane and Arctic Monkeys at TRNSMT 2018

Arctic Monkeys made their made their exclusive UK festival appearance this year at the Glasgow Green event, and Turner's Last Shadow Puppets bandmate joined them on stage for fan favourite 505.

Watch them perform the Favourite Worst Nightmare track above, in footage shared by sampeet97 above.

Dave Grohl joins Guns N'Roses in Tulsa

Dave Grohl surprised Guns N' roses fans by joining them for a rendition of their Paradise City anthem.

Axl Rose and co. were playing the BOK Center in Tulsa, Oklahoma on 14 November 2018, when the Foos frontman popped up to help them perform the 1987 hit.

Watch the full performance above, which was posted on Guns N' Roses Facebook page.

Liam Gallagher and Foo Fighters at CalJam 2017

Liam Gallagher surprised fans at CalJam festival 2017 when he joined Foo Fighters onstage for a cover of The Beatles Come Together and uncharacteristically jumped into the audience to crowd-surf!

The Manchester legend later admitted that he only crowd surfed because he forgot the words.

Classic.

Jamie T and Miles Kane

Jamie T showed some support for his friend and collaborator Miles Kane when he turned up to his London gig at the Moth Club in May to perform his Too Little Too Late track.

Richard Ashcroft At Liam Gallager's Finsbury Park Gig

They didn't share the stage together, but Liam Gallagher's "biblical brother" did play a surprise acoustic set just before his Finsbury Park show.

Watch the crowd singalong with The Verve legend to Bitter Sweet Symphony.

Guns N' Roses and Foo Fighters rock out in Italy

Foo Fighters have joined forces with Guns N' Roses for an epic performance in June 2018.

The Learn To Fly rockers played a headline performance at Florence's Firenze Rocks festival, where they invited Axl Rose, Slash and Duff McKagan on stage to help them play It's So Easy.

Rick Astley & the Foo Fighters at The O2, London

Last Autumn bore witness to Rick Astley joining forces with Dave Grohl and co at The O2, London

It wasn't the first time it happened that year, but it was glorious that it happened in the UK.

Chad Smith, Will Ferrell & Eddie Vedder

Red Hot Chili Peppers drummer Chad Smith and comedian and actor Will Ferrell had audiences seeing double when they both took the stage at their a charity gig this week.

The pair joined Peal Jam's Eddie Vedder, guitarist Mike McCready and singer-songwriter Brandie Carlile at the Moore Theatre in Seattle in February, where they performed a cover of Depeche Mode's Personal Jesus.

Watch a clip of their performance of the 1990 track in a video shared on YouTube by MrBubbrub above.

Liam Gallagher and The Killers at Lollapalooza Brazil

OK... so it wasn't actually performance, but that doesn't make it any less great.

Liam Gallagher gave Brandon Flowers a fright when he surprised The Killers on stage in March 2018.

The Las Vegas rockers were almost finishing their headline set at Lollapalooza Brazil when the Oasis legend crept up on their frontman on stage.

The Manchester rocker can be seen walking on stage towards the end of their All These Things That I've Done single, prompting Brandon Flowers to jump, before saying: "Fucking Liam Gallagher".

Liam's stunt was in response to The Killers covering Wonderwall in honour of the former Oass frontman at the Chilean leg of Lollapalooza Festival, after he was forced to cut his set short. 

Watch a video of the moment in a clip shared on YouTube by lollapaloozamania.