VIDEO: Remember Gareth Southgate In This Pizza Hut Advert?
11 July 2018, 14:48 | Updated: 11 July 2018, 14:50
The England manager proved he had a sense of humour soon after his missed penalty at Euro 96.
England manager Gareth Southgate is responsible for steering England into their first World Cup semi finals since 1990, seeing them face Croatia tonight from 7pm in the hopes of making it through to the final.
But 22 years ago, it was a very different story.
Back then, Gareth Southgate became the poster child for England's football defeat when he missed a crucial penalty during their Euro 1996 semi-final match... And it was only against Germany!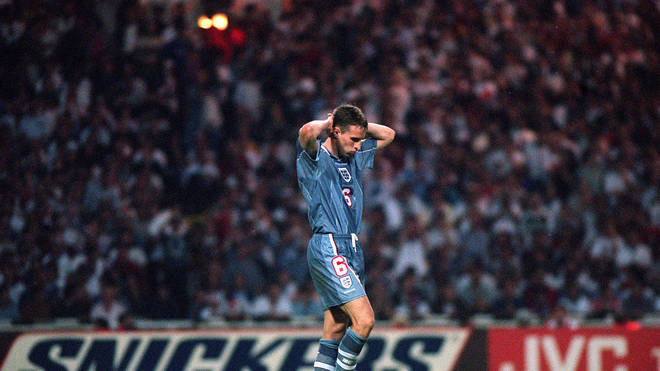 Southgate copped a lot of stick for the defeat, with the entire nation's hopes and dreams dashed in his now infamous penalty miss.
We may all be able to look back and laugh at it now, but it turns out Pizza Hut thought it was pretty funny at the time too.
Soon after the boys came home with their tail between their legs, the famous pizza chain released an advert which played on Southgate's "miss" in a big way.
The ad saw fellow penalty-missers Stuart Pearce and Chris Waddle sitting down for a meal at the pizza joint, while mocking Southgate - who just so happens to have a brown paper bag over his head.
Pearce delivers the classic line: "Come on Gareth. It only took me six years to get over it. Have some Pan Pizza".
Watch the brutal video above.
Unsurprisingly, Gareth Southgate has now revealed that he found it so difficult to cope with the defeat that he couldn't listen to Three Lions for 20 years.
Speaking to Sky News, the ex-footballer said: "Football's coming home, I couldn't listen to it for 20 years, frankly. It has a slightly different feel for me, but it's nice to hear people enjoying it again.
"I would just walk out of the room. It is an anthem and has followed the team for a long time, but involved some difficult moments as well.
"I don't stick it on, it's not on the playlist, but I can listen to it now."
Southgate added: "That ended in disappointment and it is nice to be able to put a different frame on it now."