Crouchfest 3: The biggest night in football returns - how to buy tickets
30 June 2023, 10:00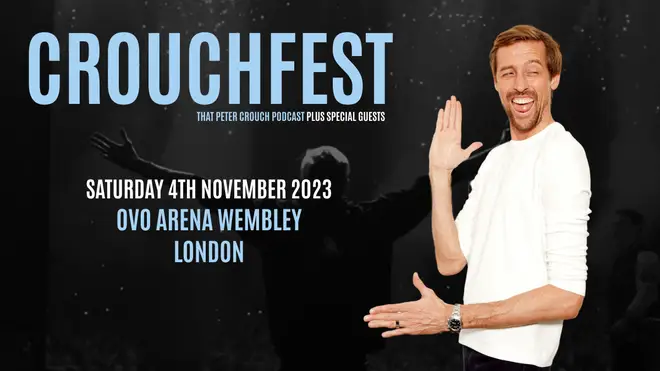 That Peter Crouch podcast has announced the details for Crouchfest 3. Find out who's joining the former footballer and how to buy tickets.
After the unprecedented success of Crouchfest 2022, That Peter Crouch Podcast is thrilled to announce the details for its sequel; Crouchfest 3, which takes place on 4th November 2023 at London's OVO Arena Wembley.
Dubbed by Crouchy himself as "the best trilogy since The Godfather, Jaws and Jurassic Park," this live extravaganza is set to captivate fans like never before.
Crouchfest 3 promises an unforgettable night of chart-topping acts, renowned football personalities, plus a live performance of the award-winning podcast.
Join Peter Crouch, the lads, and over 10,000 football fans for the ultimate football experience, packed with entertainment and surprises that will leave you on the edge of your seat.
Tickets go on general sale from Friday 30th June at 10am BST from Ticketmaster.
CROUCHFEST At London's OVO Arena Wembley | Live Nation UK
READ MORE: Peter Crouch says joining Kasabian on stage was one of his "finest moments"
Since its debut in 2018, That Peter Crouch Podcast has taken the world by storm, captivating millions of listeners with its unique blend of football banter and insightful discussions.
With eight seasons recorded and over 100 episodes under its belt, the podcast has soared to dizzy heights, amassing a 80 million listeners and securing its position as the most-listened-to sports podcast in the UK, and one of the nation's biggest shows!
Previous Crouchfests eatured an impressive lineup of performers, including Kasabian, Liam Gallagher, Tom Grennan, Paul Potts, So Solid Crew, and ex-England goalkeeper David James.
READ MORE: Peter Crouch on the time he locked Abbey Clancy out of the house!