Watch The Best Of The Elis James & John Robins Show Animations
16 May 2016, 16:51 | Updated: 2 August 2017, 10:47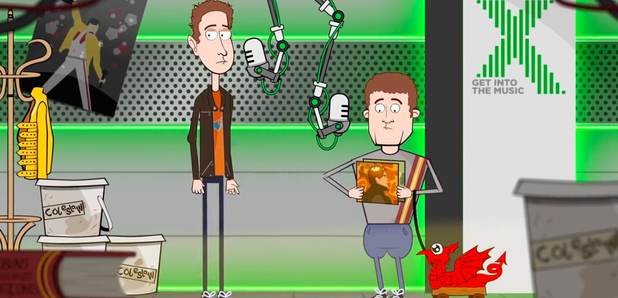 Watch the very best clips from the Elis James & John Robins show - all in beautiful, shiny animation.
The Elis James & John Robins show asked you lot to animate your favourite clips from the show, and you did not disappoint. Each clip is unique and, quite frankly, very, very funny. Take a look at some of our favourites below.
If you'd like to animate a clip of the show, send it over to saturday@radiox.co.uk or Dave.Masterman@radiox.co.uk.

How To Prank Your Own Band
This clip was sent in by Berty and it's pretty special. Elis tells John and Dave about a time his friend played a pretty outstanding prank. Trust us, it's brilliant.
What Was It Like When Iggy Pop lived With David Bowie?
John & Elis sent time considering what life was like when Bowie and Pop lived together in Berlin during the late seventies. This awesome animation was made by the very talented Daniel Harries. You can check out some more of his work here.
How "Under Pressure" was written
Queen's Under Pressure is easily one of the best songs of all time. John Robins, our go-to Queen expert, tells us the story behind the classic stadium rock anthem. Elis, however, throws in a few little details that aren't strictly true...
This, quite frankly awesome, animation was made by TimToon. You can check out more of his work here.
Dave's Wedding
After Producer Dave got married, Elis and John gave him a little feedback about the wedding - mainly about coleslaw.
Created by by Sam Brown of
21Six
.
The Lego Show
Fans of the show Brian and Holly have created something we could only fathom in our dreams - what a lego Elis & John world would be like. But we need wonder no more. Watch the lego legends try and help Producer Dave devise an excuse.
Broadcasting Fumbles
Stumbling over your words isn't particularly rare, and it's even more common in the radio world. But when John Robins falls over his words he styles it out like a pro...sort of. This animation was made by TimToon.
John Doesn't Like Cricket...
John doesn't just like cricket...he loves it. He loves everything about. Although, maybe not quite enough to pay Bobby Cliff the full PRS fee...
Winner Plays On
You Tube - Paperclip: John Robins & Elis James from Dean Lane on Vimeo.
Winner Plays On is a legendary game that has been with the guys since the beginning. In this clip, John is answering questions about Silence Of The Lambs...and he gets a little carried away.
Heckling
Every comedian hates being heckled. And every comedian has about 500 different heckling stories. Here are two from Elis & John. This animation has been put together by
D Jeffery-Hughes
.