WATCH: This Is Why Ewan McGregor Shaved His Head...
24 January 2017, 12:51 | Updated: 10 August 2017, 13:10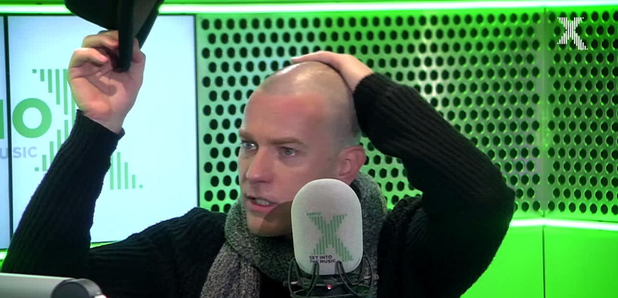 The Trainspotting star told Chris Moyles why he's gone bald.
Ewan McGregor has revealed the reason why he's sporting a bald head.
When asked about his recent hairstyle, the T2 actor told Radio X's Chris Moyles: "I'm doing Fargo. I'm doing the third season of Fargo and I'm playing two brothers in it."
Watch him talk about his part in the upcoming third series here:
Explaining more about his role, he revealed: "I'm playing these two characters and they're both brothers, but they look very different, so I've got two wigs for each, and it was the easiest way.
"One of them has a very receding hairline and a bald patch, so the only way to do it without having to wear a bald cap, which never look very convincing, is to shave the head."
Talking about the series, which he is a big fan of, the 45-year-old added: "It's so much fun. I can't tell you how much fun I'm having at work. It's beautiful writing".
Speaking to Chris Moyles this morning, the Trainspotting star also revealed he was in "floods of tears" after watching the sequel.
He gushed: "It was like looking back on my life in a way. It was so moving. I was in absolute floods of tears by the end of it."