Sandi Thom on video outburst: "I stand by all of it 100%"
13 November 2015, 13:37 | Updated: 2 August 2017, 10:46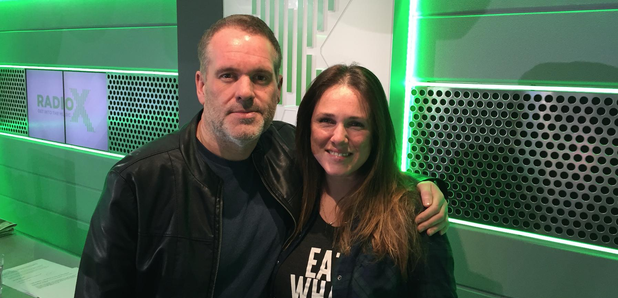 The singer-songwriter told Chris Moyles it was a "genuine moment", but she'd probably "think twice" about doing it again.
Sandi Thom has revealed she stands "by everything" she said in her rant this week.
The singer-songwriter hit the headlines on Wednesday (11 November) after posting a Facebook video about her Earthquake track failing to make the Radio 2 playlist.
Despite deleting it minutes later, the video had already been uploaded and shared on various websites, making her a source of much debate and discussion.
Now, speaking to Chris Moyles on Radio X this morning (Friday 13 November) the star has said- despite her "pregnancy emotions" she stands by what she said.
She revealed: "I stand by all of it. 100%.
"What I said was in the heat of the moment, it was pregnancy emotions injected in there and what not but it was a completely genuine message and I stand by the whole thing, 100%."
The singer - who's most famous for her No.1 hit, I Wish I Was A Punk Rocker (With Flowers In My Hair), went through her process on the day, admitting she was advised to delete the video, soon after she made it.
"I think everybody was genuinely concerned that i'd get a lot of flack. So it was like 'Sandi I think you need to take that down,' but by the time that happened a couple of people had got hold of it and it kind of just snowballed."
The singer - who has been an independent artist for seven years- added that she was so heartbroken because there was "a lot of carrot dangling".
"There's a lot of carrot dangling that goes on. 'It's brilliant. We love it. It's perfect,' all positive response(s). And I was like: 'I really think it's gonna happen this time.'
However, defending her critics who say she should never write a song to be playlisted, she explained: "I wrote the song about a real life situation and that's the way I write about music.
"You don't sit down and write a song and think. You, know I think this is going to be perfect for Radio 2."
Despite, calling it a "genuine moment" the star concluded: "I probably would think twice, I'm sure if there was another moment like that".
She added: "It was a genuine moment and we do all sometimes spontaneously go hit send or post or whatever, that's kind of brought up this bigger issue."
Listen to Sandi Thom's Earthquake track below: