WATCH: U2's First Joshua Tree Shows Look & Sound Amazing
15 May 2017, 13:23 | Updated: 15 May 2017, 18:04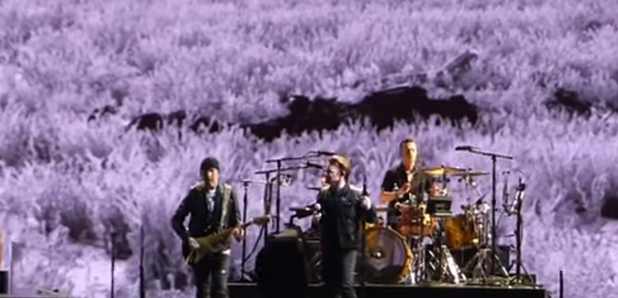 See them perform classic tracks from their seminal 1987 album here.
U2 have kicked off the North American dates for The Joshua Tree anniversary tour, playing two epic gigs so far.
Marking 30 years since the release of their seminal album, Bono, The Edge, Adam Clayton and Larry Mullen played the BC Place Stadium in Vancouver, Canada on Friday 12 May, before taking to the States to play CenturyLink Field in Seattle, Washington last night (14 May).
Watch them play I Still Haven't Found What I'm Looking For at yesterday's gig in Seattle:
See them perform their epic ode to New York, Where The Streets Have No Name:
Watch them perform With Or Without You:
Kicking off their mammoth set in Seattle with Sunday Bloody Sunday, the band played five tracks before returning to perform their 1987 album in its entirety.
The Irish rockers then returned for two encores, rounding off their career-spanning setlist with the likes of One and Elevation-before giving their I Will Follow track its tour debut.
Intro - (The Pogues - A Rainy Night In Soho)
1. Sunday Bloody Sunday
2. New Year's Day
3. A Sort of Homecoming (with "America" snippet)
4. Bad (Tour debut, with "America" snippet)
5. Pride (In the Name of Love)
The Joshua Tree
6. Where the Streets Have No Name (with "California (There Is No End To Love)
7. I Still Haven't Found What I'm Looking For
8. With or Without You
9. Bullet the Blue Sky
10. Running to Stand Still
11. Red Hill Mining Town
12. In God's Country
13. Trip Through Your Wires
14. One Tree Hill
15. Exit (with "Eeny, meeny, miny, moe" snippet)
16. Mothers of the Disappeared (with Eddie Vedder) (also with Mumford & Sons)
Encore:
17. Beautiful Day (with "Love, Reign O'er Me" snippet.)
18. Elevation
19. Ultraviolet (Light My Way) (dedicated to women's rights activists)
20. One ((dedicated to David Wojnarowicz)
Encore 2:
21. Miss Sarajevo (Passengers cover) (with "The New Colossus " snippet.)
22. The Little Things That Give You Away
23. I Will Follow (Tour debut)
Photo: YouTube/U2gig