Watch Ricky Gervais' Slough Video For David Brent: Life On The Road
16 August 2016, 11:23 | Updated: 16 August 2016, 11:26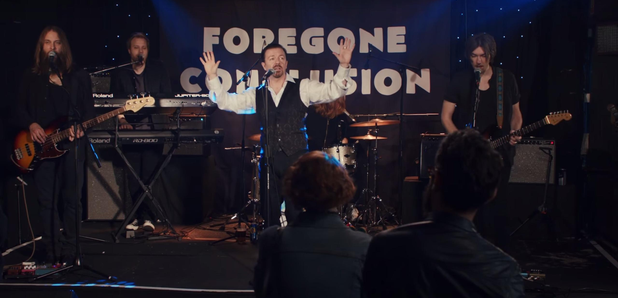 The film is set for release in cinemas on Friday 19 August.
The official video to Ricky Gervais' Slough has been unveiled online.
The track features in his upcoming film, David Brent: Life On The Road, which is set for release in UK & Irish cinemas on Friday 19 August.
Watch now:
Gervais recently revealed that he sent the track to David Bowie just weeks before his passing.
Gervais told The Sun: "I sent Bowie the demo version of Slough and he loved it. He said: 'I'd like to hear a whole album of David Brent singing about provincial towns of Britain.'"
Ricky Gervais first struck up a relationship with the late rock star when he asked him to appear on an episode of Extras, which Gervais calls the "highlight of (his) career".
The pair collaborated on Little Fat Man, which Gervais looks back on with fondness, recalling: "I wrote the lyrics and sent them to him to do the music. I phoned him up and said, 'Can you make it a bit retro, like Life On Mars?"
"And he said, 'Oh yeah, sure. I'll just knock off a quick fucking Life On Mars for you, shall I?'
"He was so funny and down to earth and a genius. And what he came up with was perfect.
"Probably the highlight of my career, working with him."