Watch The Moment Garbage's Shirley Manson Falls Off Stage
16 May 2016, 12:10 | Updated: 16 May 2016, 12:16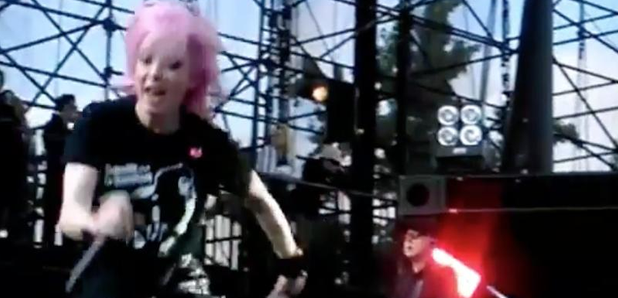 The Cherry Lips singer recovered like an absolute pro at their gig at Los Angeles' KROQ Weenie Roast.
Shirley Manson took an unfortunate tumble during a Garbage gig this weekend.
The Cherry Lips four-piece were performing at KROQ Weenie Roast in Los Angeles this Saturday (14 May) when the frontwoman fell off the stage.
The pink-haired singer managed to recover spectacularly, though, barely missing a note as she performed to the the crowd.
Watch the video, uploaded by a fan to Instagram, below:
The band will continue their international dates this month, before playing London's Troxy on 13 June, three days after the release of their Strange Little Birds LP.
Listen to Empty - the first single to come from their forthcoming sixth studio album.
Picture: Instagram/hollyclark714