WATCH: Arnold Schwarzenegger Hits Back At Trump's Ratings
22 March 2017, 12:24 | Updated: 22 March 2017, 12:27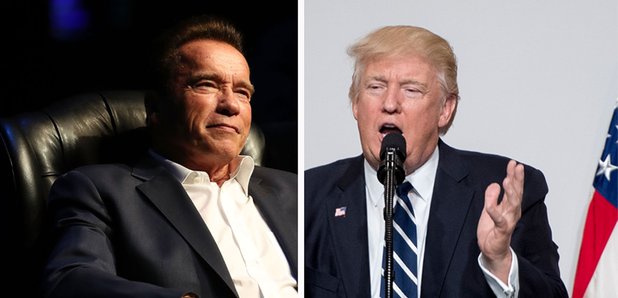 The Terminator star hit the President of The United States right where it hurts.
Arnold Schwarzenegger and President Trump have been engaging in a very public feud, which began to start when Trump slammed his the star's Celebrity Apprentice ratings.
But it appears the Terminator star has had the last laugh, coming back at Trump to use his own approval ratings against him.
In a video posted on Twitter, the 69-year-old said: "Oh, Donald, the ratings are in, and you got swamped. Wow. Now you're in the 30s?"
Hey, @realDonaldTrump, I have some advice. See you at Hart Middle School? Here's more info about #afterschool: https://t.co/NOgdhBHyyp pic.twitter.com/NQI2OdVqtF

— Arnold (@Schwarzenegger) March 21, 2017
The former Governor of California continued:"But what do you expect? I mean, when you take away after-school programs for children, and Meals on Wheels for the poor people, that's not what you call 'making America great again'. Come on! I mean, who is advising you?"
In a classy move, the actor and former Governor of California didn't just use the video as a chance to get his own back, but also drew attention to important causes on the President's doorstep.
He concluded: "Let me give you some advice. Go to a middle school- the Hart Middle School, right in Washington- six miles away from the White House.
"I'll take you there so you can see the fantastic work that they're doing for these children. Let's do it huh?"