Wallace And Gromit Actor Peter Sallis Dies
5 June 2017, 17:37 | Updated: 5 June 2017, 17:45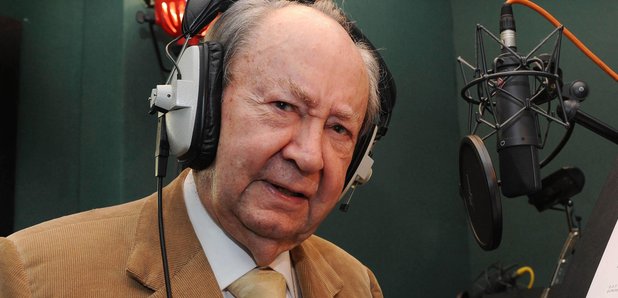 The voice of the animated cheese lover and the star of Last Of The Summer Wine has passed away aged 96.
Legendary British actor Peter Sallis has died, aged 96.
Sallis was best known for being the voice of Wallace in the animated Wallace And Gromit films and starring in Last Of The Summer Wine.
His agents confirmed that the actor passed away peacefully on Monday (5 June) with his family by his side.

Sallis was serving in the RAF when he was asked to take a role in an amateur production of Noel Coward's play Hay Fever and he later admitted that he felt "so at home" as soon as he stepped on stage.
After a period at the Royal Academy of Dramatic Art, he played a variety of characters in films - including Saturday Night And Sunday Morning, Taste The Blood Of Dracula and Wuthering Heights - as well as on stage and screen. An early starring role was as Samuel Pepys on television and he also appeared in the first West End production of the musical Cabaret with Judi Dench in 1968.
Other TV roles included Doctor Who, The Pallisers and the animated series The Wind In The Willows.
Sallis was arguably most famous as part of the cast of the BBC comedy Last Of The Summer Wine, playing Norman "Cleggy" Clegg from the first edition in 1973. He was the only character to have appeared in all 295 episodes. Sallis said of the show: "You would not find me getting up to anything crazy that Clegg gets up to, but I have been very lucky to be a part of it all."
His career continued when he leant his voice to the character of Wallace in the series of animated movies, beginning with 1989's A Grand Day Out as well as appearances in The Wrong Trousers and most recently 2008's A Matter of Loaf and Death.
Asked about the inspiration behind Wallace, animator Nick Park said: "There was something about his voice that somehow insisted I make Wallace's mouth really wide to get it around the syllables."
Sallis is survived by his son Crispian, 57. His wife, Elaine Usher, died in January 2016 at the age of 84.