Viz Accidentally Got Removed From Facebook And They Had A Right Laugh About It...
17 February 2016, 11:19 | Updated: 25 April 2016, 15:12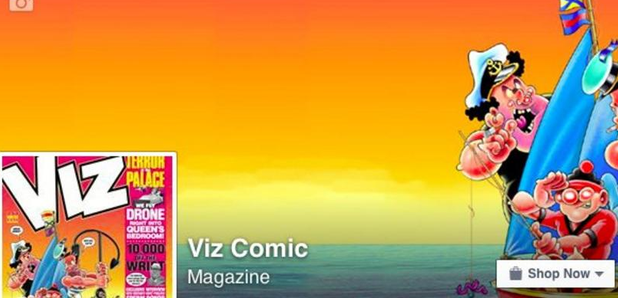 Viz's Facebook account was removed yesterday (Tuesday 17 February) and it caused a right ol' stink. The message claimed that the comic's posts violated the social media platform's guidelines.
Facebook have taken the Viz page down. We can appeal, but if we get it wrong, we'll be "permanently deleted". Oo-er. pic.twitter.com/r7llr1iIqK

— Viz Comic (@vizcomic) February 16, 2016
The long-running adult comic - known for its rude jokes, toilet humour and strips like Johnny Fartpants and Sid The Sexist - revealed their account was removed from the social network, and they dealt with it in a beautifully passive-aggressive fashion.
Just working on our new Facebook profile. What do you think? Still too offensive? pic.twitter.com/5eJufSNoDe

— Viz Comic (@vizcomic) February 16, 2016
Some followers didn't take kindly to the news, and highlighted the hypocrisy of the move.
@vizcomic racism, sexism, beheadings all ok. Fart jokes-no. #crazyworldoffacebook

— Youaintseenme (@CooperJayKay) February 16, 2016
@prodigy_69 @vizcomic now is the time for Viz's own social network, Tw@tter here we come!

— HappyToast (@IamHappyToast) February 16, 2016
@vizcomic Funny how @facebook are happy to defend pages with mutilated animals but angrily shut down harmless, toilet literature.

— Rich Gittins (@RichGittins) February 16, 2016
@vizcomic So *that's* how you get permanently deleted from Facebook...

— Robert Ramsay (@MothTwiceborn) February 16, 2016
@ben_doughnut @vizcomic it's like a faceplant, but less pleasurable.

— Drew Lyall (@drooperscot) February 16, 2016
However, it seemed it was all done in "error" and their account was swiftly reinstated... which didn't stop them having still having a joke about it at their own expense.
To celebrate our return to FB MoreTvicar are offering 15% off all Viz Tshirts. Every cloud. https://t.co/c3NqTFRouz pic.twitter.com/XgLtbT5Tpi

— Viz Comic (@vizcomic) February 16, 2016
Facebook have put our page back up, but rest assured we're not going to tone anything down. pic.twitter.com/7MwywY9WFo

— Viz Comic (@vizcomic) February 16, 2016
And order is restored, with foul-mouthed infant Rude Kid, reinvented for the 21st Century.
Bowie would have approved.
Here's a picture of David Bowie reading Viz (one of the great man's top 100 reads) https://t.co/uHzqumk7vz pic.twitter.com/lmBlLpb8X3

— Jon Dennis (@JonDennis) January 11, 2016