Viola Beach's Swings & Waterslides Single Reaches No.1 On iTunes Chart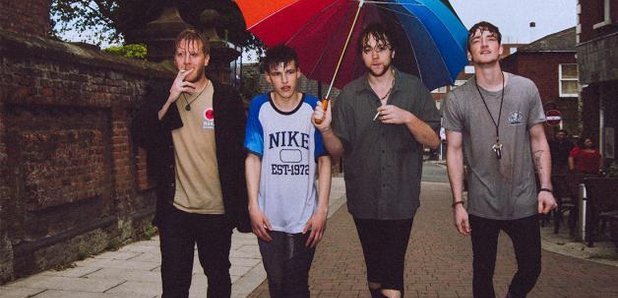 The track has briefly topped the charts, following a campaign launched by the band's friends and family.
Viola Beach's Swings & Waterslides reached No.1 in the iTunes singles chart, following a campaign to send the track to the UK top spot.
The Warrington band - who were included in Radio X's Great X-Pectations for 2016 - made the top of the chart this afternoon, though the position has currently been reclaimed by Lukas Graham's 7 Years.
Today a tribute video was released for the single, which sees the band introducing themselves to camera and performing on stage.
Watch the moving video below:
Frontman Kris Leonard, (19) guitarist River Reeves (19), bassist Tomas Lowe (27), drummer Jack Dakin (24) and their manager Craig Tarry (32), were returning from Sweden's Where Is The Music festival on Friday 12 February when their car fell off a bridge at the Södertälje canal.
Their friends and family started the campaign this week to get the single to No.1, with famous rockers also adding their support.
Liam Gallagher led the tweets, with a post on his official Twitter account, sharing a link to their Swings & Waterslides single.
Viola Beach - Swings & Waterslides - https://t.co/3HTE23kG9S RIP LG X

— Liam Gallagher (@liamgallagher) February 15, 2016
The Stone Roses also tweeted their support, writing: "Let's get them to No.1".
RIP @Viola_Beach - let's get them to No.1 - https://t.co/xjwgqzuvRW One Love x

— The Stone Roses (@thestoneroses) February 16, 2016
Also keen to give the cause a helping hand were Kasabian, who after hearing the news, tweeted: "Our hearts go out to the families and friends".
Our hearts go out to the families and friends of @Viola_Beach. So sad x

— KasabianHQ (@KasabianHQ) February 14, 2016
Let's get @Viola_Beach to number one x https://t.co/uKhtWt6lRC

— KasabianHQ (@KasabianHQ) February 16, 2016
All proceeds from the track will be donated to the family of the band and their manager.
Meanwhile Blossoms have announced that they'll be playing the entire set intended for Viola Beach's support slot at their upcoming gig.
Taking to their official Facebook account, they wrote: "We'll never forget them. Their tunes forever in our heads; Craig, Jack, Kris, River and Tom always in our hearts.
"All their families have been contacted and tonight, and then on every date on the tour they were due to join us on, we will mark their slot by playing a full audio recording of their set that was recorded from the Leamington Spa show."
They added: "If you're coming to the gigs, get down early and celebrate their lives with an outpouring of love: Dance, drink and sing along. Viola Beach & Craig Tarry RIP"
Read the full post below: