Viola Beach Remembered At Warrington Parr Hall Memorial Concert
4 April 2016, 15:19 | Updated: 4 April 2016, 15:38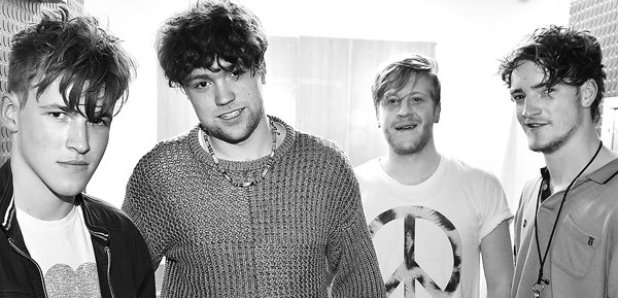 Radio X spoke to The Kooks' Luke Pritchard about the gig's "beautiful atmosphere".
The Coral, Courteeners, The Kooks and Blossoms were among the acts who paid tribute to Viola Beach with a special concert at Warrington's Parr Hall on Saturday 2 April.
Last night was a roller coaster of emotions. Good old @PyramidParrHall / Loved the @Viola_Beach video footage. pic.twitter.com/VCPVhuQ30y

— PRIESTLEY (@Priestleymusic1) April 3, 2016
Crowds gathered for the sold out show to commemorate the band and their manager Craig Tarry, who tragically lost their lives in a car accident in Sweden.
Speaking to Radio X ahead of the gig, The Kooks frontman Luke Pritchard said: "It's a beautiful atmosphere here.
"We didn't know them particularly well but we had met before. For their families and stuff we want to try and give something good out of what's happened and share our music with them."
Asked about the vibe, the Seaside singer added: "It's quite sixties, man. It's kinda cool. Everyone's running about and everyone's sharing amps."
He concluded: "It is sad, but everyone's trying to have a celebration of their short lives and that's the feeling inside."
Blossoms - who recently featured support from the young band - remembered them with an acoustic set.
@BlossomsBand acoustically rocking Warrington Parr Hall last night. A celebration fit for Viola Beach. pic.twitter.com/mzRYcDePAR

— Jimmy Loughlin (@Jimmy_Loughlin) April 3, 2016
Liam Fray - who was due to play alone - surprised the crowd, offering them a set with his Courteeners bandmates.
Now the rest of @thecourteeners have joined @What_Liam_Said #ViolaBeach Celebration #Warrington pic.twitter.com/ttKD8bKJmh

— Pyramid & Parr Hall (@PyramidParrHall) April 2, 2016
Fans brandished rainbow-coloured umbrellas in the crowd, which featured in one of the very few press pictures from the band.
And that's your lot #violabeach - made me proud to be from Warrington. Well done @SJMConcerts & @PyramidParrHall pic.twitter.com/ovrfcTBgI8

— David Morgan (@DMorganguardian) April 2, 2016
Eliza and the Bear, The Vryll Society, The Strawberries and Psyblings, The Zutons and Hidden Charms also made appearances, as footage of the band and their live shows were displayed throughout the evening.
Incredibly moving Viola Beach celebration last night. Brilliant job @PyramidParrHall @BlossomsBand, @What_Liam_Said pic.twitter.com/sqkng7QoV2

— MATTHEW WHITEHOUSE (@m_j_whitehouse) April 3, 2016
Taking to Twitter, The Kooks summed up the night with a post which read: "Emotional evening. Great music. Amazing people. A lot of love. Did the boys proud."
Emotional evening. Great music. Amazing people. A lot of love. Did the boys proud. #ViolaBeach pic.twitter.com/wJdfzEa6yu

— The Kooks (@thekooksmusic) April 3, 2016
All proceeds from the event will go to the family of those who lost their lives.