Bono: We Should Deploy Amy Schumer, Chris Rock & Sacha Baron Cohen To Fight Extremists
13 April 2016, 15:13 | Updated: 13 April 2016, 15:25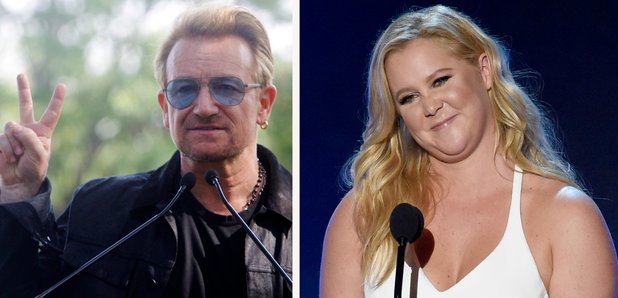 The U2 frontman thinks extreme violence should be battled with extreme comedy.
Bono thinks comedians should be deployed to deal with the threat of extremism.
The U2 frontman thinks the likes of Amy Schumer, Chris Rock and Sacha Baron Cohen could be the answer to countering groups such as ISIS.
According to The Daily Beast, the star told a Senate panel in Washington, D.C: "I think comedy should be deployed...It's like, you speak violence, you speak their language. But you laugh at them, when they're goose-stepping down the street, and it takes away their power.
"So, I'm suggesting that the Senate send in Amy Schumer, and Chris Rock, and Sacha Baron Cohen, thank you."
Despite gaining some laughs from the room, the With Or Without You rocker maintained he was "actually serious".
Other than comedy, the Dublin musician believes a new "Marshall Plan," committing to end the international refugee crisis could be the best antidote to extremists.
Speaking to the Senate subcommittee on Capitol Hill, he said: "Aid in 2016 is not charity; it is national security.
"It could be the best bulwark we have against violent extremism."