10 things we need to thank Breaking Bad for...
7 November 2018, 13:50 | Updated: 8 November 2018, 09:56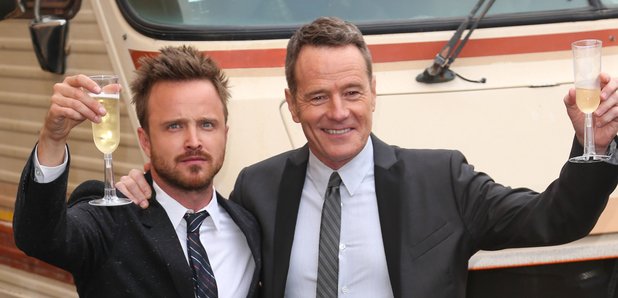 As rumours swirl about the the hit series becoming a film, we look back on what made it so great.
Whether you loved or hated Breaking Bad, there's no way you've not heard the series mentioned before.
While we all have our favourite TV shows, in the TV biz there's pretty much only two contexts to consider; BBB (Before Breaking Bad) and ABB (After Breaking Bad).
The hit series about a cancer-ridden science teacher-turned-drug warlord completely captured the hearts and minds of telly lovers everywhere, and changed the way we viewed series in the process.
Here's 10 things we have to thank Breaking Bad for:
1. Binge-watching
Love it or loathe it, binging on TV series is now completely normal, and the preferred mode of watching a series for most.
Like The Sopranos and The Wire before it, Breaking Bad made for some pretty compulsive watching, but its cliff-hanger and at times infuriating episode endings had us saying "just one more," before realising we'd watched a season in one day.
2. Making TV stars as important as film stars
With the likes of Mad Men leading the way, Breaking Bad made TV series and its leading men and ladies much less disposable. TV shows were winning lots of awards, and suddenly everyone wanted a piece of the action. Thanks to the likes of Bryan Cranston and Aaron Paul, people REALLY appreciated the acting they saw on the TV series. Film stars thought nothing of signing up for TV roles in the hopes of it becoming a stone cold classic, and nowadays you have everyone from Billy Bob Thornton to Winona Ryder appearing on the small screen. And let's not get started on how famous the cast of Game Of Thrones are...
3. Bringing back the art of the backstory
Yeah, so Lost did it back in 2004, but the way Breaking Bad looked at characters' past, brought flashback episodes to the forefront. And despite that, they always found a way to keep us wanting more... We still to this day don't really know how Gus Fring got so damn evil.
5. Scream out loud moments
OK, so now we're down to the final season of Game Of Thrones, we're pretty much used to tearing our hair out in desperation over a TV show. But can you remember shouting at a TV screen in absolute shock or horror before Breaking Bad? And we're not talking about those shocking last few seasons of Lost, either...
6. Making TV criticism and talking about TV high-brow
While the idea of television as an appointment to view was dwindling, discussions about series like Breaking Bad made you want to watch it as fast as you could, lest you fall foul of the spoiler. Not only that, but talking about series kind of became high-brow, as weekly online columns became devoted to the series, as are podcasts now. And who can deny that watching box sets is now a totally acceptable thing to list as a hobby?
In fact, we all like to think of ourselves as critics now, even if we're just sitting watching TV...
7. It (probably) gave us NARCOS...
While the real-life exploits of drug lords like Pablo Escobar probably inspired Breaking Bad in the first place, there's no denying that the success of the likes of The Sopranos, The Wire and especially Breaking Bad led to shows like Narcos being made.
Rightly or wrongly, Breaking Bad confirmed audiences' interest in the inner workings of cartels, and the drug lords who presided over them.
8. It taught us about Crystal Meth, and confirmed it's no bloody joke
Breaking Bad gave us an insight into cooking drugs (crystal meth in particular) we never knew we wanted. From the very first "cook" in that caravan, to their high-end operations as the show went on, cooking drugs took us somewhat behind the science of how they were made. However it showed us the consequences of meth too, as well as the consequences of drug use in general. Need we remind you of THAT scene with Jane again?
9. It made us realise how awesome Bryan Cranston was...
Though boasting a long career spanning back to the 80s, Cranston was most known for playing the highly strung-out dad from Malcolm In The Middle in the noughties. Thanks to Breaking Bad, we realised just how epic he was. And if it wasn't for Breaking Bad, we may not have seen his career transform in the way it did, or had him writing notes for fans to find in his own book at Heathrow airport.
Oh and he once said "shite" on morning television, which wouldn't have happened without Breaking Bad either...
10. And last but not least... It gave us Better Call Saul
There's no denying that Saul Goodman was one of the best characters to come out the series, so when his spin off was announced Breaking Bad fans rejoiced!
What's not to love about an origins story based one of the series' most-loved characters? And if you disagree about Saul being one of the most popular characters...
Lead photo credit: Imeh Akpanudosen/Getty Images