WATCH: Guardians Of The Galaxy Cast Choose Their Own Soundtrack
27 April 2017, 11:36 | Updated: 19 September 2017, 18:29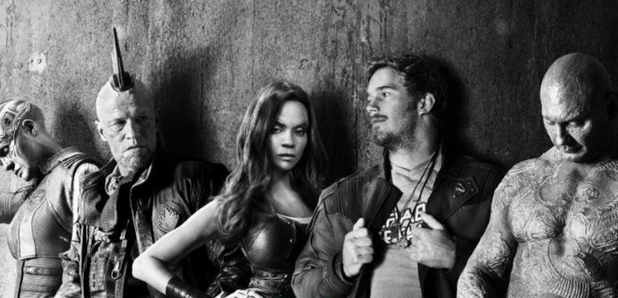 See what the likes of Chris Pratt, Zoe Saldana and Kurt Russell would put on on their "awesome mix".
The cast and team behind Guardians of the Galaxy Vol. 2 have revealed what they would have on its soundtrack, and some of their picks are pretty cool.
This year's soundtrack includes everyone from Fleetwood Mac to George Harrison, but thanks to Nerdist, we can find out what Chris Pratt, Zoe Saldana and Kurt Russell would choose for their "Awesome Mix Vol. 2".
Watch their video here:
See some of the stars' picks below:
Chris Pratt (Peter Quill/Star-Lord): The Highwaymen, Johnny Cash, Waylon Jennings, Chris Stapleton, Garth
Zoe Saldana (Gamora): Robin, Def Leppard, Prince, Shakira Led Zepelin, Lionel Ricthie, Stevie Wonder
Karen Gillen (Nebula): Elvis - Hound Dog, Britney Spears - Toxic,
Pom Klementieff (Mantis): Air, Blood Orange,
Kurt Russell (Ego): ZZ Top - Sharp Dressed Man
Dave Bautisa (Drax): Motown, Iron Maiden, Metallica, Wu Tan Clan, Luciano Pavarotti, Johnny Cash
Michael Rooker (Yondu): Jazz, Gospel, Country, Hip-Hop, Blues
James Gunn (director): A little punk rock, some Swedish rock, and a little alternative hip hop. The Clash, Moneybrother, and Lyrics Born.
Meanwhile, this week Chris Pratt visited the Chris Moyles show and revealed his hilarious misinterpretation of afternoon tea.
Watch our video here:
The Jurassic World star explained: "Somebody told me you have to have high tea and finger sandwiches. When I heard her say that, I thought 'why would I finger s sandwich?'"
He added: "It's such a weird thing to do with a pile of sandwiches. I'm oddly intrigued! What do these sandwiches look like? Do they deserve to be handled in that way?"
Guardians Of The Galaxy Vol. 2 which is released in UK cinemas on Friday 28 April.