WATCH: MP Gives Trainspotting 2-Inspired "Choose Life" Speech
2 February 2017, 11:45 | Updated: 19 September 2017, 18:29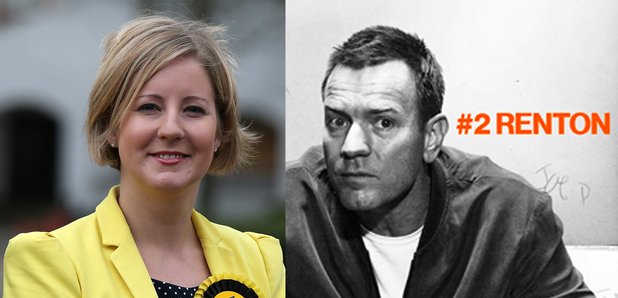 Scottish MP Hannah Bardell delivered an anti-Brexit speech in Parliament based on Renton's famous monologue.
A Scottish MP has given her take on the Trainspotting "Choose Life" speech in Parliament.
Hannah Bardell paid "tribute to Irvine Welsh, Danny Boyle and Ewan McGregor" after watching T2 Trainspotting at the weekend, by giving Renton's famous speech a political, anti-Brexit facelift.
Watch her impassioned speech below:
Inspired by #Trainspotting2 - I wanted to highlight that Scotland did not choose #Brexit, it chose life, in the EU. https://t.co/I9TcpHHOLe

— Hannah Bardell MP (@HannahB4LiviMP) February 1, 2017
As NME reports, Bardell's speech was as follows: "Choose Brexit. Choose making up numbers from thin air about the NHS and plastering them on the side of buses," she said. "Choose racist and xenophobic sentiments seeping out from some corners of the Leave campaign.
"Choose hate crime rising by over 40% and LGBT hate crime by 150% in England and Wales following the Brexit vote. Choose taking the people of our nations to the polls on one of the most important issues of a generation with nothing written down and no plan.
"Choose ignoring the interests of the people of Scotland and my constituents in Livingston despite the fact they voted overwhelmingly to Remain in the EU. Choose leaving the single market, risking 80,000 Scottish jobs within a decade and costing the people of Scotland an average of £2,000 a year in wages."
Choose lowering Scotland's GDP by more than £10 billion and Scotland's exports by more than £5 billion. Choose vital EU worker status being under threat with widespread uncertainty to family, businesses, and the economy.
"Choose risking our international standing in the academic research and innovation communities as we lose access to funding, expertise, and people in the EU. Choose walking away from the European medicine association without any detail or thought of the impact.
"Choose the great Brexit power grab, taking back control of straight bananas. Choose returning to the Thatcher era of poverty and austerity. Choose the UK turning its back on Europe.
"These, Mr Speaker, are not the choices that the Scottish people made. Scotland chose differently. Scotland chose to look outward. To face the world. To embrace the EU and all of the protections and advantages that it brings. Not a hard Tory Brexit. This Tory government must respect that.
"Scotland chooses life. Life in the European Union. Not a hard Tory Brexit. This Tory governmant must respect that."
Photo: PA/Press