Watch James Corden's Tribute To London Following Attack
7 June 2017, 17:08 | Updated: 19 September 2017, 18:29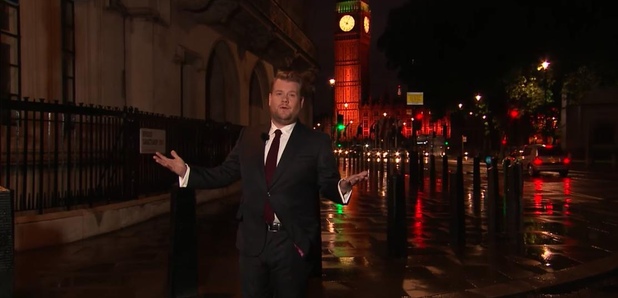 The Late Late Show host broadcast his opening monologue outside the Houses of Parliament.
James Corden has dedicated his opening monologue to London, following the terrorist attack in London Bridge, which saw eight people killed and many more injured on Saturday (4 June).
Watch his monologue here:
Addressing the camera while standing outside Big Ben and the Houses Of Parliament, Corden said: "Good evening everybody and welcome to British summertime.
"We are here in the heart of London. Now, as I'm sure you know, a few days ago last Saturday night this city was attacked and it happened about a mile or so that way near London Bridge.
"I'm so sad when I think about all the times that I've had to open our show talking about such atrocities. Trying to find the right words to say is impossible because there are none. Some people might say it's a strange time to do a variety show in this city. I couldn't disagree more. A lot's going to happen here in the next few days."
He continued: "We're going to elect a new prime minister, and just behind that building there is the Houses of Parliament, a building that represents democracy, something that the people who carried out this attack hate."
"We're gonna bring the silliest, stupidest, most fun-packed shows we've ever made for you to celebrate London and Britain and everything it has to offer," he added. "And you know what the people who carried out that attack, they would hate that too. I'm so proud to be broadcasting here from my home town. I'm proud to show off its beauty, its diversity, and its stoic British determination to let nothing or anybody stand in our way. This is not a country that feels afraid."