WATCH: Gordon Ramsay Learns To Make Cocaine In New ITV Show
11 October 2017, 14:08 | Updated: 11 October 2017, 14:15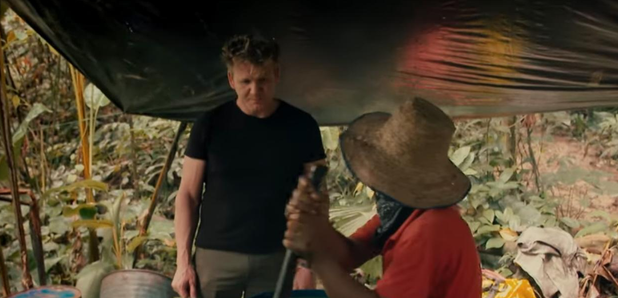 See the TV chef discover how the drug is produced in ITV's first look trailer for the upcoming programme, Gordon Ramsey on Cocaine.
Gordon Ramsay has been shown the gruelling process that goes into producing cocaine in a new programme, which is part of ITV's Crime & Punishment season.
Watch a snippet of the trailer above.
WARNING: THIS VIDEO HAS STRONG LANGUAGE THAT SOME MAY FIND OFFENSIVE
The clip sees the famous telly chef go deep into the Colombian jungle as he learns the shocking truth behind what goes into making the drug.
Speaking in the video, Ramsay looks on in horror as everything from cement powder, sulphuric acid dissolved in water, gasoline and battery acid is added to cocoa leaves.
See ITV's full video here:
Gordon Ramsay on Cocaine will air on ITV this autumn.