Watch Bruce Willis In The Brutal Trailer For Death Wish
4 August 2017, 16:13 | Updated: 19 September 2017, 18:29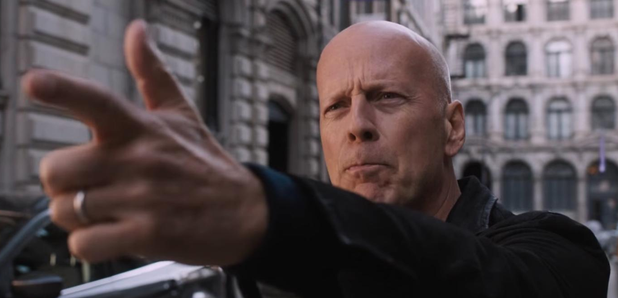 See the trailer for the remake of the 70s revenge thriller, set to AC/DC's Back In Black.
The trailer for the Death Wish remake has arrived, and it's set tongues wagging.
Bruce Willis plays the role of a trauma surgeon who goes vigilante after his wife and daughter are brutally attacked in their family home.
Watch it here:
The promo - which is set to AC/DC's Back In Black - sees the Die Hard star wreaking revenge on criminals, and with Eli Roth at the helm it's predictably gruesome.
The 1974 original, which starred Charles Bronson, sees him play an architect whose wife is brutally raped and murdered, while his daughter raped and left alive to deal with the horrific trauma.
Unable to get justice via the the legal system, the architect decides to take the law into his own hands and clean up the streets with the help of his trusty gun.
Though Willis takes on a different occupation in the reboot, and it's spruced up with 21st Century referenced, the film's main plot does stay the same.
Unsurprisingly due to the film's nature, many have taken to Twitter to share their thoughts. See them below:
Fair or not, I can't think of a more tone-deaf idea in this political/social environment than white filmmakers remaking #DEATHWISH...

— Scott Mendelson (@ScottMendelson) August 3, 2017
The left's freaking out about how Death Wish is an alt-right movie promoting racism and fascism. Eli Roth is Jewish, you hysterical goons.

— Ian Miles Cheong (@stillgray) August 4, 2017
Eli Roth's Death Wish remake is so nakedly fascist that alt-righters will have an erection before the trailer ends https://t.co/sDY5fQXR9W

— Alan Zilberman (@alanzilberman) August 3, 2017
Maybe #DeathWish isn't a good idea in a post-Trayvon Martin world. White dudes on vigilante rampages for their fridged wife is very 1980...

— Donna Dickens (@MildlyAmused) August 3, 2017
CONFEDERATE. DETROIT. And now, DEATH WISH. All symptoms of the same sickness.

— VyceVictus (@VyceVictus) August 3, 2017
However, others just don't think action-man Willis isn't right for the part:
Willis is already an action guy which defeats entire purpose of 'Death Wish' of normal guy gone rogue. How do they screw this basic thing up

— Stephen Miller (@redsteeze) August 3, 2017
Singer-songwriter John Mayer seemed to find the light side:
I hope the new Death Wish remake includes the riveting side story about land easements and real estate that made the original such a smash.

— John Mayer (@JohnMayer) August 4, 2017
Death Wish is set for release in November 2017.
Photo & video credit: YouTube/MGM/Death Wish