WATCH: Anthony Joshua's Biggest Fear On Bear's Mission Is Classic
16 October 2017, 23:52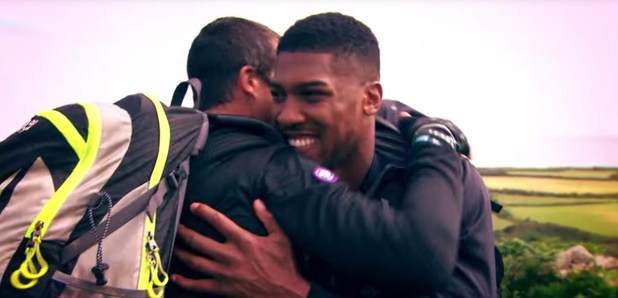 Watch the boxing champion embark on a special survival mission with Bear Grylls for a upcoming one-off ITV show.
Anthony Joshua is set to appear on Bear's Mission, a one-off special which will test his mettle amongst the elements.
Watch the advert in our clip above.
In the trailer shared by ITV, the Heavyweight boxer is seen landing on a remote island where he's met by the survival expert before having to endure a series of challenges.
Every inch the city boy, looking to camera, the sportsman says without an ounce of irony: "I could end up running into a sheep or a sheep could attack me! I don't know what's gonna happen!".
The clip goes on to show the Watford man baring his soul, abseiling down a rock face and carrying Bear on his back while exercising.
ITV write in their video description: "Bear and Anthony embark on a mission which requires AJ to use a whole different set of survival skills. He is stripped of the lifestyle he is used to at home in London and taken back to nature to reveal a side of himself that you've never seen before."
Bear's Mission with Anthony Joshua airs on Friday 27 October from 9pm on ITV.
Photo credit: YouTube/ITV