The Funniest Tweets On The Mayweather/McGregor Fight
27 August 2017, 09:34 | Updated: 19 September 2017, 18:43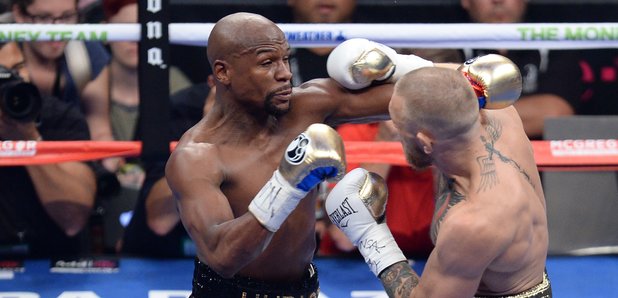 The much-hyped boxing match ends in the 10th round with Mayweather victorious.
The hugely-hyped and highly anticipated fight between US boxer Floyd Mayweather and Irish UFC fighter Conor McGregor took place in Las Vegas in the early hours this morning (Sunday 27 August) and inevitably, Twitter was on hand to commentate.
Mayweather ended his career unbeaten after 50 fights, but the match was stopped in the tenth round by referee Robert Byrd.
UFC fighter McGregor told the BBC: ""I thought it was close and I thought it was a bit of an early stoppage. I was just a little fatigued." He said he wouldn't rule out a return to boxing.
One tweeter saw the 10th round like this, however…
Round 10 mayweather vs McGregor #MayweathervMcgregor pic.twitter.com/MFaGqVMkIS

— papasonnie (@FocRoy) August 27, 2017
Meanwhile, some of the moments during the fight reminded some onlookers of something else familiar…
Who did it better? #MayweathervMcGregor pic.twitter.com/eAqOmKi3EU

— James Medina (@Jaimedina1) August 27, 2017
And, if it ever needs saying again, we realise that The Simpsons have predicted EVERYTHING.
Either way Guys
No matter what way
You look at it the,#Simpsons had already
Predicted it#Mayweather
And #McGregor #MayweathervMcgregor pic.twitter.com/6ZA9Lr68ca

— (@patrickpatchbyr) August 27, 2017
But most Tweeters seemed to be obsessed with the amount of cash the American and Irishman were earning for the fight…
McGregor: where am I?
Mayweather: wake up mate, we rich AF #MayweathervMcgregor pic.twitter.com/4iddNYEb3b

— Abid Khan (@beingabidkhan) August 27, 2017
Mayweather and that Irish bloke racing to get to the bank this morning pic.twitter.com/0tDepfBnB7

— Paul (@Ginner_B) August 27, 2017
Conor McGregor and Floyd Mayweather relaxing after one of the most talked about fights in history pic.twitter.com/EDyFa3dcVS

— Crep Plug (@CrepPlug) August 27, 2017