PICS: Tom Hardy Shaves Head For New Role, Looks Well 'Ard
12 April 2018, 14:09 | Updated: 13 April 2018, 11:36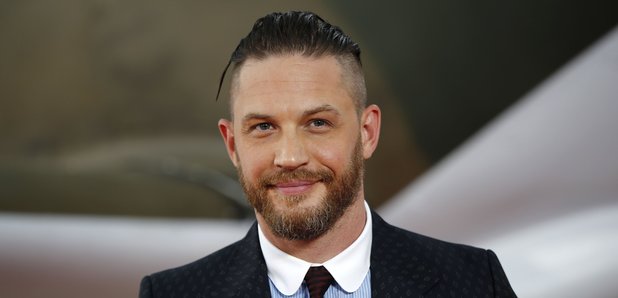 The Chasing Fonzo and Venom star has shared snaps of his latest transformation on Instagram.
Tom Hardy has revealed another dramatic transformation for his latest role.
The British actor, who's known for his body-changing roles in the likes of Legend, Bronson, and The Dark Knight Rises.
Taking to his official Instagram, the star has shared pics which appear to be taken on the set of new Al Capone biopic Chasing Fonzo.
See one snap, which sees him completely bald wearing thickly-framed glasses, captioned: "Audrey and Jay Make up legends".
Another sees him in his Capone character, with the make-up artists clearly doing a great job on changing his face and hair.
His last image - which is black and white and close up - sees him grimacing at the camera lens and frankly looking hard as nails.
Meanwhile, Tom Hardy's role in Venom is set to be debut in this year. The Spider Man spin-off, which focuses on the villainous Marvel character, is set for release on 5 October 2018.
Not content to just be a world-class actor, Tom Hardy's talents never seem to cease.
A 1999 rap mix tape entitled Falling On Your Arse by "Tommy No 1 + Eddie Too Tall" surfaced on Reddit earlier this year, showcasing the actor's rapping and writing skills.
Have a listen to the collection of tracks below, which boast titles such as We Makes The Beats, No Love No Life and Bring The F__king Noise.
Not bad at all.
But it wasn't just a bit of fun. Back in 2011, Hardy admitted to BBC Newsbeat that he actually had a record deal, saying: "I used to be with the guy who managed Leela James and Lauryn Hill, Pras, the Fugees and all that. I worked out with (GRAMMY-winning producers) Warren Riker and Gordon Williams. I've recorded loads of stuff but it's never been released."
So it looks like alongside acting, modelling, saving puppies and catching scooter thieves, we can add decent rapper to the list of Tom Hardy's talents.
And who can forget the time he chased after a moped thieves in Richmond, yelling: "i caught the c**t!".
According to The Sun, Arun Pullen, 22 - who was witness at the scene recalled: "It was mental – like he'd switched to superhero mode in an action movie. Two boys on the nicked moped had jumped a red light and smashed into a car.
"Tom must have been walking down the road. He went off like a shot in pursuit and looked furious. If the kid had been dumb enough to resist I reckon Tom would have given him a good hiding."
All in a day's work for Tom Hardy.
Legend.
Lead photo credit: TOLGA AKMEN/AFP/Getty Images